Airbus Defence & Space has announced plans to extend its work on automatic air-to-air refuelling – or so-called A3R – technologies by in the future incorporating fully autonomous functionality.
"We are now on our way to get an autonomous air-to-air refuelling which is a kind of unmanned execution of the operation," says Jean-Brice Dumont, the company's head of military aircraft. Airbus has dubbed the planned advance A4R.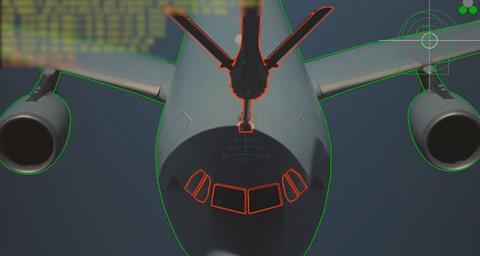 "We see more and more with long-range missions for many aircraft, including combat aircraft, a need for predictable, deterministic, reliable air-to-air refuelling capability," he says. With this in mind, the company is eyeing technologies which will enable the procedure to become fully autonomous, without requiring modifications to receiver aircraft.
"Our intent when we qualify such a function is to have a minimum impact," he said during the company's online Trade Media Briefing on 30 November.
Details of the required enhancements, a likely flight-test schedule and a potential target date for in-service availability have yet to be disclosed.
Airbus has so far received orders for 68 A330-200-derived multi-role tanker transport (MRTT) aircraft, and delivered 51 of these. Its most recent successes have included securing a follow-on order from the United Arab Emirates for two new-build examples, and a deal to modify three ex-Iberia-operated airliners for the Spanish air force.
The company's next big sales target is to satisfy the US Air Force's (USAF's) expected 150-unit KC-Y tanker need, via a partnership with prime contractor Lockheed Martin. Plans to produce an LMXT evolution of the current Airbus offering were outlined by the companies in September, following the release of a request for information, ending speculation that the USAF could be offered the Neo model.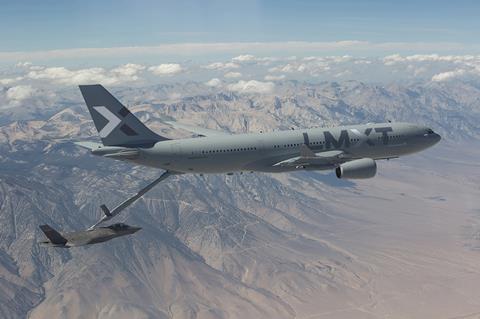 "The -200 is the reference of the MRTT, and when you offer an aircraft for a given need you need to balance pros and cons. You need to balance the value-add of a given solution – Neo in this case, versus the Ceo. This has been run together with Lockheed Martin, and we came to the conclusion that the right version was the -200," Dumont says.
"This aircraft is going to be American. This is what Lockheed Martin stands for – that it's an American aircraft that is going to be offered to the American government." He adds: "It must be Americanised, industrially-speaking, and technically-speaking there are specific US DoD [Department of Defense] and US Air Force requirements that are going to transform the aircraft for the US need."
The LMXT will have a maximum fuel capacity of 123t; 12t more than the current MRTT model, Lockheed has said. Its offering will face competition from incumbent USAF supplier Boeing, which is currently delivering 767-based KC-46A tankers to the service under a 179-aircraft programme.
Cirium fleets data shows that there are 63 Neo-model A330-800s and -900s in current airline use. Among factors potentially weighing against the latest commercial model's selection for the KC-Y contest are its exclusive use of Rolls-Royce Trent 7000 engines.
While the majority of A330 MRTT customers have acquired Trent 700-powered examples, both Australia and Saudi Arabia use CF6 engines produced by GE Aviation.
Asked by FlightGlobal whether the LMXT could be produced at Airbus's Mobile plant in Alabama, or at Lockheed's Marietta, Georgia site, Dumont declines to reveal details.
"It's [too] early to say," he says, adding: "it's naturally a sensitive topic. We are going to be public about it soon, but the decision is not fully made."
Dumont also says Airbus is in "intensive discussions" with the Canadian government over a planned six-aircraft acquisition. Ottawa earlier this year selected the A330 MRTT as sole candidate to meet a requirement to replace its air force's current five A310 tanker/transports.
"Will it be more in the end, considering the size of the country; what's the share of second-hand versus new aircraft? This is all what we must figure out with the Canadian government, and the topic of our discussions," he says.
Meanwhile, Airbus was due on 30 November to hand over the first ex-Iberia A330 to the Spanish air force, initially for use in the air transport role. The widebody will subsequently undergo modification to the MRTT configuration, with Madrid's trio of adapted aircraft to enter use from 2023-2025.