Airbus Defence & Space has welcomed Belgium's confirmation as an observer to the European Future Combat Air System (FCAS) programme, with its involvement concerning information sharing around research and technology.
"I think it's positive that Belgium joins," says Jean-Brice Dumont, Airbus's head of military air systems. "It is a European programme and we are talking about European sovereignty, so having more European countries in principle is good news."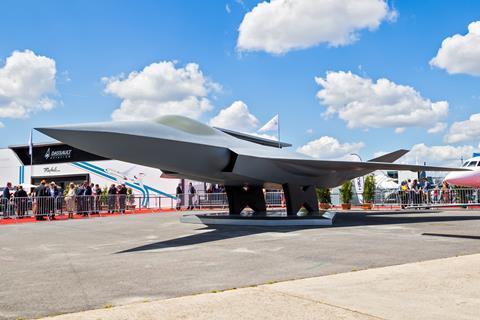 Announcing the step on 19 June, Belgian defence minister Ludivine Dedonder said: "By joining this project we allow our companies to stay at the forefront of innovation while having a positive impact on employment, and we are strengthening European defence."
Speaking at the Paris air show, Dumont notes: "We have Phase 1B and Phase 2 [FCAS] contracts signed with three nations, so we are going execute [industrially] with three nations. The role of Belgium will need to be defined politically first, between the nations, and then industry."
The current phase of the French-German-Spanish FCAS effort kicked off earlier this year, and Dumont says "Our engineers are working. It is much more positive than it was during the intense phase of negotiation."
FCAS aims to deliver a broad range of advanced combat systems for operational use after 2040, with Dassault Aviation acting as platform lead for a New Generation Fighter.
Dumont also notes that "the journey continues" for the Eurofighter Typhoon, with planned further orders for Germany and Spain and a Long-Term Enhancement (LTE) package – still being discussed by the programme's four European partner nations – to serve as "export-enablers".
He expects a Phase 4E contract to be signed later this year covering so-called Tranche 4 Eurofighters, and adds that on the contents of LTE there is "a pretty good level of convergence" between Germany, Italy, Spain and the UK.
"There are export prospects before LTE," Dumont says. "There can be Tranche 4 exports, and there can be even more Tranche 5 exports."

Craig Hoyle joined Flight International in 2003, and has edited the now monthly title since 2015. He has reported on the UK, European and international military aviation sector for more than 25 years, and produces our annual World Air Forces directory.
View full Profile