Textron company Airborne Tactical Advantage (ATAC) plans to begin delivering adversary training services at two US Air Force (USAF) bases within 60-90 days using ex-French air force Dassault Mirage F1s, after winning part of the service's Combat Air Forces Contracted Air Support (CAF CAS) programme.
ATAC expects to deploy around five F1s each to Holloman AFB in New Mexico and Luke AFB in Arizona, says director of global military sales John Rupp. These will be used to provide adversary air services during the instruction of Lockheed Martin F-16 pilots at both sites, and Lockheed F-35 pilots at Luke AFB.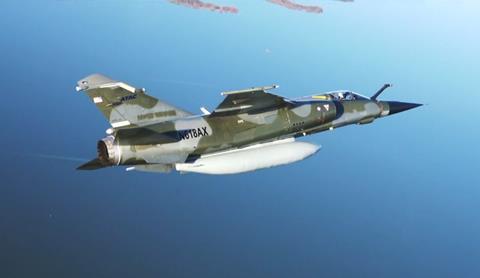 The company will be required to provide two four-ship formations per day at each location, for a combined annual total of more than 3,000 sorties. Worth a potential $240 million, its contracts are for a base period of one year, followed by three option years and a possible final six-month extension.
ATAC acquired more than 60 Mirage F1s following the type's retirement by the French air force.
"Structurally the aircraft remain the same, [but] from an avionics and systems perspective we have made some upgrades," Rupp says. These include communication, navigation and attitude indicator display updates, and he says a future package of modifications will include replacing the fighter's Thomson-CSF-produced Cyrano IV radar.
"Right now we have 10 of the aircraft which have received Federal Aviation Administration airworthiness certification in the USA, and we have a number of additional F1s that are very close to being completed," Rupp says.
"Ideally we would like to start operations within 60 to 90 days, because right behind those aircraft are additional F1s that we're preparing for other programmes." These include proposals to supply other USAF bases via the CAF CAS effort, along with a requirement to meet the service's adversary air requirements in Europe. ATAC also is eyeing training needs in Germany and the UK, he adds.
Michael Thompson, ATAC's senior manager for air force sales, says the French-built fighter "really hit a sweet spot" when pitched against USAF training requirements. The platform's attributes include its single-engined cost efficiency, Mach 2.1 and 50,000ft-plus operating performance, and extended time on station. "We are able to simulate a high/fast flier with some of the capabilities that we might see out of our peer competitors," he notes.
Due to its success, the company is embarking on a programme to recruit a further 50 pilots and maintainers to grow its existing staff of ex-US military personnel.
Contracts to support training at another three locations have also been placed by the USAF, covering services at Kelly Field, Texas, Kingsley Field, Oregon, and Seymour Johnson AFB, North Carolina. A sixth planned award – for "Red Air" provision at Eglin AFB, Florida – has been delayed, with the base undergoing environmental analysis.