Canberra has awarded its first contract in a programme to upgrade Boeing EA-18G Growler electronic warfare aircraft operated by the Royal Australian Air Force (RAAF).
The upgrade work is occurring under the auspices of the 'AIR 5349 Phase 6 – Advanced Growler' requirement, according to Australia's defence ministry.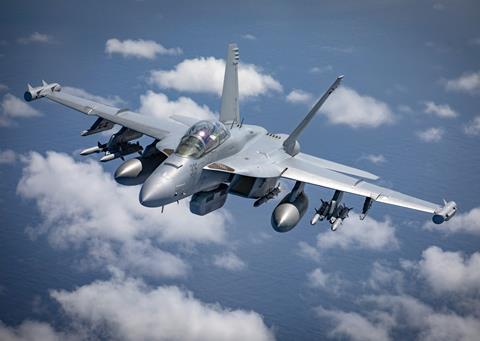 The upgrades will include continued cooperation on the US government's Next-Generation Jammer programme, in which Australia is a partner, aircraft upgrades, and facility upgrades.
The initial contract is valued at A$277 million ($254 million) and is going to local firm CEA Technologies, which will "provide advanced capabilities for Australia's electronic warfare ranges".
The contract covers fixed and portable emitters. Overall, the Advanced Growler upgrade programme has a budget of over A$2 billion.
Also included are upgrades to the EA-18G fleet's anti-radiation missile capability, including "new longer-range and more advanced anti-radiation missiles" and unspecified upgrades to Australia's "anti-radiation missile war stock".
In October 2022, Canberra exercised a $35 million contract option with Northrop Grumman subsidiary Alliant TechSystems to purchase the AGM-88E Advanced Anti-Radiation Guided Missile (AARGM) system.
In 2017, the US government had cleared the sale of 110 anti-radiation missiles to Australia, comprising 70 AGM-88B High Speed Anti-Radiation Missiles and 40 AGM-88E AARGMs.
Then, in June 2022, the USA cleared a $95 million deal for Australia to obtain 15 AGM-88E2 AARGMs.
The USA has also developed an extended-range version of AARGM, the AARGM-ER. The updated weapon entered production in 2021.
"We are delivering leading edge technology the RAAF needs to face an increasingly complex and uncertain strategic environment," says Minister for Defence Industry Pat Conroy.
The RAAF operates 11 EA-18Gs, the electronic warfare variant of the F/A-18E/F Super Hornet.