The US government has cleared the possible sale of 24 Lockheed Martin C-130J tactical transports to Australia, as Canberra looks to replace and expand its Super Hercules fleet.
The value of the possible 24-aircraft deal is $6.35 billion through the US government's Foreign Military Sales (FMS) process, according to the US Defense Security Cooperation Agency (DSCA). It adds that Canberra requested information on a 24-aircraft buy.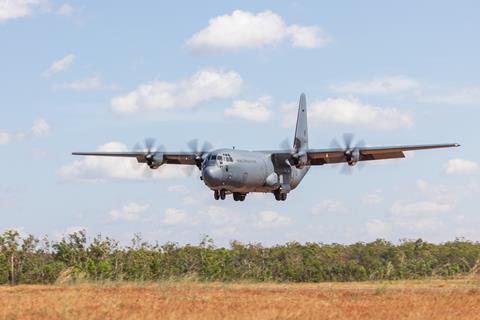 The new FMS case for 24 examples follows Canberra's announcement on 1 November that it will replace and expand the Royal Australian Air Force's (RAAF's) C-130J fleet through the acquisition of new C-130Js.
The Australian Department of Defence (DoD) statement, however, gave no indication about the planned size of the expanded fleet. It is not clear if Canberra will obtain all 24 aircraft qouted in the FMS case.
In addition to the 24 aircraft, the proposed package includes a range of avionics equipment, defensive aids, and support.
"This proposed sale will support the foreign policy and national security objectives of the United States," says the DSCA.
"Australia is one of our most important allies in the Western Pacific. The strategic location of this political and economic power contributes significantly to ensuring peace and economic stability in the region. It is vital to the US national interest to assist our ally in developing and maintaining a strong and ready self-defense capability."
Australia's DoD says that it considered other tactical transports for its C-130J replacement programme, but deemed new C-130Js to be the best option in terms of reducing programme risks and meeting requirements.
Canberra has cast a wary eye on the deteriorating geopolitical situation in North Asia stemming from Beijing's massive arms build-up and increasing belligerence. An expanded tactical transport capability would go some way to supporting possible operations far from Australia's shores.
Cirium fleets data indicates that the RAAF operates 12 C-130Js with an average aircraft age of 23 years.