Australia has cleared the acquisition of the Northrop Grumman AGM-88E2 Advanced Anti-Radiation Guided Missile-Extended Range (AARGM-ER) weapon for the Royal Australian Air Force (RAAF).
The AARGM-ER will equip three RAAF combat types: the Boeing F/A-18F Super Hornet, EA-18G Growler, and Lockheed Martin F-35A, says the Australian Department of Defence.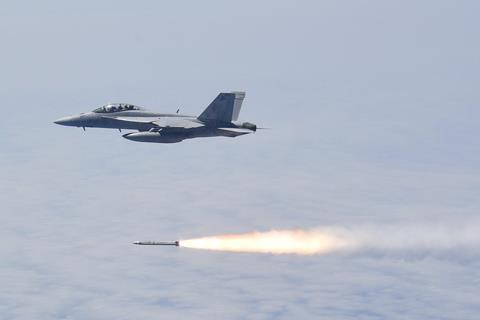 Sixty examples are to be obtained at a cost of A$431 million ($276 million).
The AARGM-ER buy is part of a broader missile buy, which also includes the acquisition of over 200 Tomahawk cruise missiles to equip the Royal Australian Navy's Hobart-class destroyers.
In February, the US Defense Security Cooperation Agency announced that Congress had cleared the sale of 63 AARGM-ERs to Canberra for the cost of $506 million. This also included a range of support services and other equipment.
The RAAF already operates the AGM-88E AARGM weapon.
In May, Northrop conducted the fifth successful test of the AARGM-ER, a weapon developed for the US Navy.
During the test, said Northrop, the weapon successfully detected, identified, located and engaged an advanced, land-based emitter target.
The AARGM-ER is expected to reach initial operational capability with the USN sometime in 2024, and will be integrated with the F/A-18E/F, EA-18G, and F-35C.
The US Air Force and US Marine Corps also plan to use AARGM-ERs on F-35s.
Northrop says the missile lets pilots engage advanced, long-range air defence systems.