Canberra has approved an A$3.5 billion ($2.6 billion) plan to accelerate the acquisition of advanced strike capabilities, including the Lockheed Martin AGM-158 Joint Air-to-Surface Standoff Missile Extended Range (JASSM-ER).
In addition to accelerating acquisition of the JASSM-ER for Boeing F/A-18Fs operated by the Royal Australian Air Force (RAAF), the plan also calls for the accelerated acquisition of the Naval Strike Missile for Royal Australian Navy frigates, and maritime mines.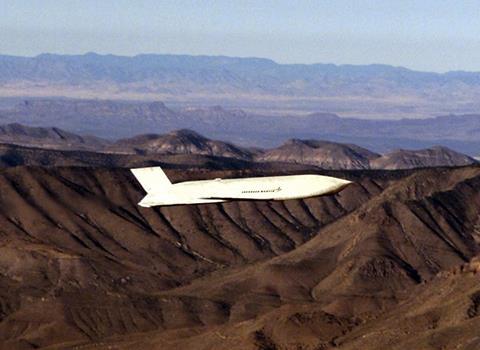 "With Australia's strategic environment becoming more complex and challenging, our [Australian Defence Force] must be able to hold potential adversary forces and infrastructure at risk from a greater distance," says defence minister Peter Dutton.
"These world-class strike weapon systems will equip our forces to better protect Australia's maritime approaches and when necessary, contribute to Coalition operations in our region. The JASSM-ER will enable the F/A-18F Super Hornet, and in future the [Lockheed] F-35A Lightning II, to engage targets at a range of 900km."
According to Lockheed's JASSM-ER fact sheet, the weapon has a 500nm (926km) range, uses an infrared seeker to engage targets, and carries a 454kg (1,000lb) warhead.
"JASSM-ER shares the same powerful capabilities and stealthy characteristics of the combat-proven JASSM, but with more than two-and-a-half times the range," says Lockheed.
"This additional reach allows warfighters to deploy JASSM-ER against high-value, well-fortified, fixed and relocatable targets while remaining clear of highly defended airspace and long-range surface-to-air missiles."
The company also highlights the weapon's accuracy and resistance to the jamming of Global Positioning System signals.
Dutton also tapped Lockheed Martin Australia and Raytheon Australia as partners in an A$1 billion "Sovereign Guided Weapons and Explosive Ordinance Enterprise".
"These two companies, along with their US-based parent companies, are the largest suppliers of guided weapons to [the Department of Defence]," says Dutton. "We will be working with them to rapidly increase our ability to maintain and manufacture guided weapons and their components in Australia."
In February, Lockheed secured a $49 million contract to integrate the anti-ship derivative of JASSM, the AGM-158C Long-Range Anti-Ship Missile (LRASM), with Australia's F/A-18F fleet. This followed Australia's July 2020 announced that LRASM would replace the Boeing AGM-84 Harpoon.
Beijing's massive arms build-up, including an aggressive naval expansion, has seen Canberra work to beef up its military, with an emphasis on long-range capabilities.