Australia will develop a domestic facility to apply stealth coatings to the Lockheed Martin F-35 fighter.
The new Aircraft Coating Facility will be built at Newcastle Airport, New South Wales, and will support the Royal Australian Air Force's (RAAF's) fleet of F-35As, says Australia's Department of Defence.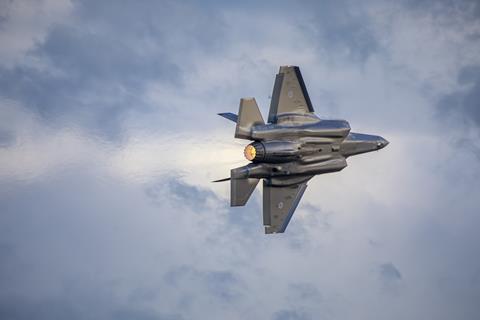 The facility will be the first of its kind in Australia and will be developed in conjunction with BAE Systems Australia.
The RAAF operates 63 F-35As, a number that will eventually grow to 72.
Construction is expected to start in mid-2024 and the facility will cost over A$100 million ($88 million).
During a doorstop interview, Australia's minister for defence industry Pat Conroy suggested that the facility will also support F-35s operated by other nations.
"This stealth coating facility will not just be important to Australia's fleet of F-35s; it will support F-35s in the region, whether it's visiting US Marine [Corps] aircraft, it could be F-35s from Singapore or broader in the Indo-Pacific," says Conroy.
He adds that the coatings need to be "reapplied every so often" to ensure the fighter retains its low radar signature, but did not give a specific timeframe. He also declined to comment on whether the stealth coating is delivered to Australia, or whether it will be produced locally.