Australia confirms that it will obtain 20 new Lockheed Martin C-130J tactical transports to expand the Royal Australian Air Force (RAAF) airlift fleet.
The value of the acquisition is A$9.8 billion ($6.6 billion) and the first new C-130J is expected in over four years, according to the Australian Department of Defence (DoD).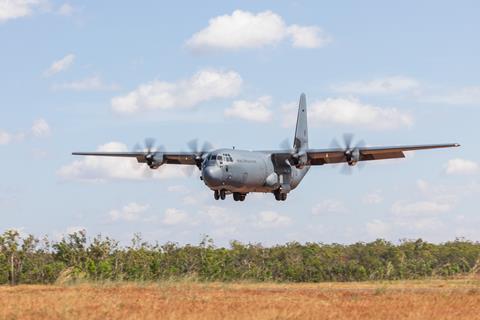 The aircraft will continued to be operated by 37 Sqn at RAAF Base Richmond, New South Wales.
Canberra first signalled its intention to both expand and replace its C-130J fleet on 1 November 2022.
Just two days later the US government, citing a request from Canberra, cleared the possible sale of 24 C-130Js for $6.35 billion under the Foreign Military Sales (FMS) process.
"The new acquisitions will replace and expand upon the 12 Hercules aircraft currently operated by Air Force with delivery of the first aircraft expected from late 2027," says the DoD.
"There will be significant benefits for Australian industry from the expanded fleet size, with opportunities to construct facilities and infrastructure and to sustain the aircraft."
Cirium fleets data indicates that the average age of the RAAF's C-130J fleet is 23.7 years, with the age range running from 23.1 to 26.4 years.
In RAAF service, the C-130J serves a number of roles in addition to its primary tactical transport mission. Missions have included disaster relief, search and rescue, and participating in peacekeeping missions.
Lockheed welcomed the news.
"The C-130J has proven its ability to meet all of Australia's medium air mobility requirements and is an excellent choice to support operations in Northern Australia, the importance of which was highlighted in the Defence Strategic Review," says Warren McDonald, chief executive, Lockheed Martin Australia and New Zealand.