The Royal Australian Air Force (RAAF) will replace and expand its existing fleet of Lockheed Martin C-130J Super Hercules tactical transports with new C-130Js.
"Defence has identified that the new C-130J aircraft represents the only option that meets all of Australia's capability requirements and assures Defence's medium air mobility capability without introducing substantial cost, schedule and capability risk," says the Department of Defence (DoD).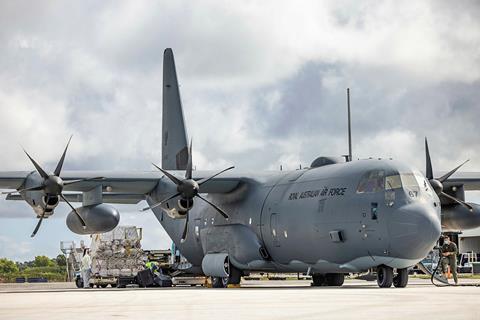 "As a result, new C-130J aircraft will be the only option that Defence will progress for Government approval under Project AIR 7404 Phase 1 in 2023."
The DoD states that the decision to obtain new C-130Js reflects experience with previous defence acquisitions as well as the RAAF's experience with the type. It states that opting for new C-130Js reduces risk and is affordable, while meeting requirements.
It adds that it considered other aircraft types before deciding on the C-130J.
"The relative merits of each aircraft type have been assessed against Australia's capability requirements," adds the DoD.
Cirium fleets data shows that the RAAF operates 12 C-130Js with an average aircraft age of 23 years. Prior to operating the C-130J, the service had experience with legacy C-130 variants – the A, E, and H.
"Lockheed Martin welcomes the statement from Australia's Department of Defence that it seeks to replace and expand its current medium air mobility fleet of 12 C-130J Super Hercules aircraft with new C-130J Super Hercules airlifters," says Warren McDonald, chief executive of Lockheed Martin Australia.
"Since becoming the first global operator of the Hercules in 1958, the fulfilment of this new procurement will provide the Royal Australian Air Force with one of the most modern and advanced C-130J fleets in the world with a proven track record of versatility and reliability."