Australia will upgrade the capabilities of its Boeing P-8A Poseidon maritime patrol aircraft, as it also approves the acquisition of a fourth Northrop Grumman MQ-4C Triton unmanned air vehicle (UAV).
The P-8A upgrade programme will run from 2026-2030, and Canberra will work with Boeing Defence Australia about options for the work to be done domestically, Australia's Department of Defence (DoD) said on 19 September.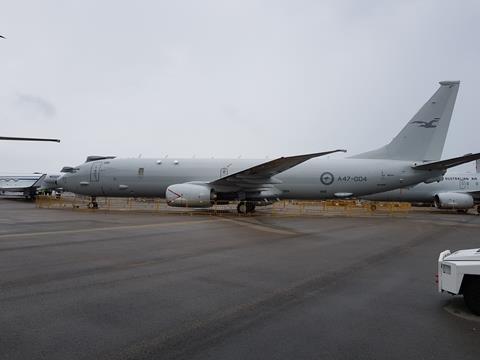 A separate statement from the US Naval Air Systems Command (NAVAIR) indicates that the jets will be upgraded to Increment Three Block Two, the latest update for the 737-derived aircraft.
The upgrade work will improve the aircraft's capabilities in the anti-submarine warfare, strike, and intelligence roles.
"The Maritime Patrol and Reconnaissance Aircraft Program Office (PMA-290) works closely every day with our Australian teammates to promote international security and enhance interoperability, and this upgrade will set us up for future success in these endeavours," says US Navy Captain Eric Gardner, programme manager of PMA-290, which manages the acquisition, development and support of the navy's patrol and reconnaissance aircraft.
In the same DoD statement, Canberra also announced that it has approved the addition of an additional MQ-4C.
Northrop has previously said that it aims to deliver the Royal Australian Air Force's first MQ-4C in the middle of 2024, with the service reforming its 09 Sqn to operate the long-range reconnaissance UAV. Australia's first example rolled out in September 2022.
Previous assessments and Australia's 2016 defence white paper have indicated that it is likely to obtain a total of six or seven Tritons.