Australia is increasing its purchases of precision, air-launched munitions.
The government in Canberra on 12 October exercised a $35 million contract option with Northrop Grumman subsidiary Alliant TechSystems to purchase the Advanced Anti-Radiation Guided Missile (AARGM) system.
The US Department of Defense (DoD) revealed the contract, which comes under its Foreign Military Sales (FMS) programme. Through the FMS process, the DoD acts a broker between US defence manufacturers and Washington's overseas allies.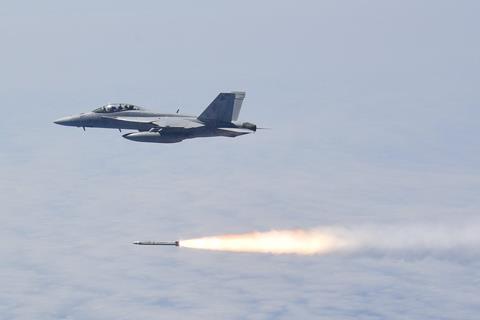 The AARGM, known as the AGM-88E in Pentagon inventories, is a medium-range, air-to-ground missile designed to suppress or destroy enemy air defence infrastructure. Its fire-and-forget guidance package seeks out the electromagnetic-radiation-emitting radars used in integrated air defence systems.
Such capability is considered critical to military success in the opening hours and days of conflicts against near-peer adversaries, when both sides would vie for air superiority.
AARGM is successor to the High-speed Anti-Radiation Missile (HARM), which was deployed by the US military from the 1980s. The HARM gained public prominence in August 2022, when the Pentagon revealed it has been shipping the missiles to Ukraine for use against invading Russian forces.
The need to stockpile precision munitions has become a regular topic of discussion following Moscow's cross-border assault in February, and amid increasing tension with China near the Taiwan Strait.
Industrial leaders have cautioned that, should war break out, they may be unable to rapidly scale up production of the high-tech missiles.

In July, head of Raytheon missiles and defence Wes Kremer warned NATO leaders that the consumption rate of precision munitions, such as FIM-92 Stinger surface-to-air missile, in the Russo-Ukraine war highlights a vulnerability facing the Western alliance.
"Replenishment doesn't happen overnight", said Kremer.