Canberra will double the fleet of Boeing Airpower Teaming System (ATS) 'loyal wingman' aircraft to six, as the company confirms that ATS will form the basis of its effort under the US Air Force's (USAF's) Skyborg initiative.
Following the first flight of the ATS on 27 February, Australia's minister of defence industry Melissa Price says that Canberra will invest a further A$115 million ($89 million) to obtain three additional ATS aircraft, bringing the entire test fleet to six examples. The original programme, announced in 2019, called for three prototypes to be built in Australia.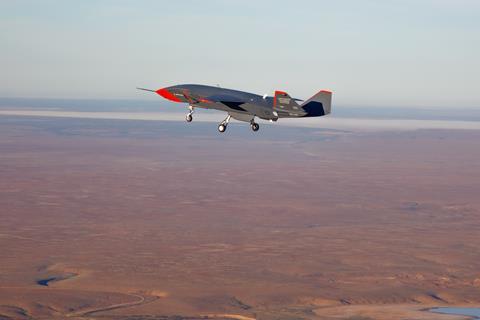 The three additional aircraft will aid in the development of teaming tactics with crewed platforms, according to Australia's Department of Defence. The aircraft is being developed jointly by Boeing Australia and the Royal Australian Air Force (RAAF).
Separately, Boeing's programme director for the ATS, Shane Arnott, says that the system is the basis for Boeing's participation in the USAF's Skyborg experiments, which are due to begin in mid-2021.
"The Airpower Teaming System is the basis for our Skyborg bid," he says. "As you'd expect, the Skyborg programme is very similar to the RAAF Loyal Wingman programme. And we're working through Boeing Defense Systems in the United States… working with the [Air Force Research Laboratory] and USAF on the Skyborg programme based on a variant of the Airpower Teaming System."
In December 2020, the USAF awarded contracts to Boeing, General Atomics Aeronautical Systems and Kratos Unmanned Aerial Systems to build and fly Skyborg prototypes as loyal wingman unmanned air vehicles (UAVs) in a series of experiments.
Per recently awarded contracts, the initial UAVs are to be delivered no later than May 2021 and are to conduct initial flight tests prior to "experimentation events" starting in July 2021.
Skyborg is envisaged as an "attritable" UAV, which can perform missions in support of manned platforms, but which is relatively inexpensive to procure and, if necessary, expendable.