Australia's Avalon 2021 air show is still scheduled to go ahead from 30 November to 3 December, even if foreign visitors are unable to attend the show.
"Avalon 2021 will be first and foremost an event to mark the centenary of the Royal Australian Air Force, and a platform for promotion of the Australian aviation, aerospace, defence and space industries," says Ian Honnery, chief executive of show organiser AMDA Foundation.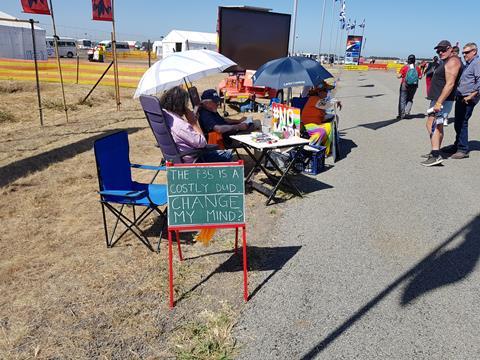 "Attendance by overseas visitors, although welcome if Covid border restrictions allow, is not critical to the success of Avalon 2021. Planning for the event has always allowed for the possibility that international border restrictions and travel constraints may result in fewer people attending from overseas than would have happened without the complications created by the pandemic."
Honnery's statement follows the cancellation of the Australian Grand Prix, which was to be held in Melbourne from 19-21 November.
Australia's F1 race takes place in Melbourne's Albert Park, whereas the Avalon Airshow is set a one-hour drive from the city at Avalon airport.
"The Covid challenges of international driver and team quarantine, which ultimately forced cancellation of the Grand Prix, are not issues that will materially affect Avalon 2021," says Honnery.
Australia has been largely shut off from the world since early 2020, as the coronavirus pandemic spread globally from China. Early on in the pandemic it was decided to shift the air show from March to November 2021.
Government officials have said that international travel may not resume until late-2021. Our World in Data shows that just 7.4% of Australia's population has been fully vaccinated against Covid-19.
Avalon is a major event on the Asia-Pacific air show circuit, attracting a range of domestic and international defence and aerospace companies, with substantial overseas attendance.