Unmanned systems will be a key feature of Beijing's future airborne early warning and control (AEW&C) systems, according to a high level executive at state airframer AVIC.
The future of AEW&C will involve networks of unmanned aircraft, integrated on a network, according to Zhang Shaofeng, deputy manager of AVIC Shaanxi, which produces AEW&C platforms such as the KJ-200 and KJ-500 that are in service with the People's Liberation Army Air Force (PLAAF).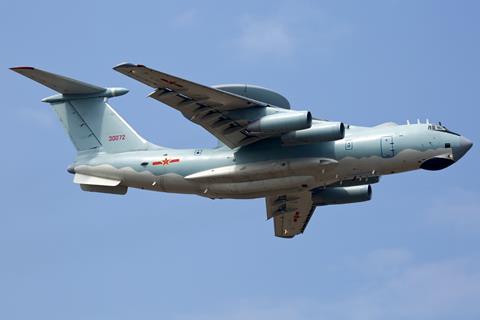 Zhang's remarks were reported by the state-run Global Times newspaper. He was speaking at Airshow China, which is being held this week in Zhuhai.
Zhang says AEW&C will be a "vital element" in future warfare and use "integrated clusters of various types of aircraft".
This is not the first time a senior Chinese aerospace official has suggested that the future of AEW&C will involve a network of aircraft.
In July, the Global Times quoted Lu Jun, the designer of the KJ-500, as saying that in future AEW&C will rely both on traditional platforms as well as smaller aircraft, working in an "information network".
In addition to the KJ-200 and KJ-500, the PLAAF operates the KJ-2000, which is based on the Ilyushin Il-76 transport. Beijing is also developing the KJ-600 for future use from Chinese aircraft carriers, and it is understood that an AEW&C version of the Y-20 strategic transport will be developed, tentatively designated KJ-3000.
The Global Times story also contends that Chinese AEW&C assets, owing to their use of active electronically scanned array (AESA) radars, are more advanced than the ageing Boeing E-3 Sentry operated by the US Air Force.
The KJ-500, based on the Y-9 tactical transport, carries an AESA array in a fixed dorsal radome. The KJ-200, based on the Y-8, has a plank-array AESA mounted on struts. The KJ-2000 also features a non-rotating, three-sided AESA.