Leonardo Helicopters has secured Italian military certification for its AWHero rotary-wing unmanned air system (RUAS).
Granted by the country's Armaereo directorate for air armaments and airworthiness, Leonardo Helicopters claims the military approval is a world-first for a RUAS in the 200kg (440lb)-weight class.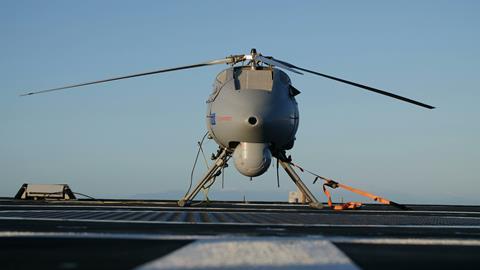 The certification also covers embarked operations, says the manufacturer.
Leonardo Helicopters says the approval also paves the way "for further development, integration and validation of expanded capabilities" on the AWHero.
To date, there are no customers for the system, although Leonardo and partner Northrop Grumman are pitching the AWHero to the Royal Australian Navy for its Project SEA129 Phase 5 programme.
The pair have been shortlisted for the next phase of that procurement, which is seeking a maritime UAS for intelligence, surveillance, reconnaissance and targeting missions.
Italy is seen as another key market for AWHero and the company is confident that the military approval will serve to bolster its credentials in future contests.