Babcock France has signed a memorandum of understanding with UK developer Aeralis, with the company interested in its modular aircraft design for potential future training deals.
"The agreement seeks to outline the value of a transformational delivery operating model for making different Aeralis aircraft configurations available to air forces as a service," the companies announced on 14 September.
"Aeralis and Babcock will look to develop flexible solutions compatible with a number of current and future operational requirements," they say, identifying possible roles as including "affordable combat air support and training constructs ready for fifth- and sixth-generation" platforms.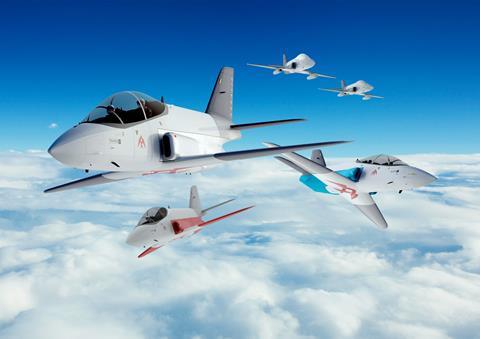 "Innovation is key for Babcock, due to the nature of the critical and challenging operations we are delivering to our customers," says Pierre Basquin, the company's chief executive aviation and France chief executive. "Working with Aeralis will help us to find the best platform for the future military flight training opportunities we have."
Babcock France delivers advanced lead-in fighter training services to the French air force, via its FOMEDEC contract. Currently-employed assets are the Pilatus PC-21 and aged Dassault-Breguet Alpha Jet.
"Babcock is set to become an important partner as part of developing Aeralis's exciting service offering across multiple opportunities," says its chief executive Tristan Crawford.
Aeralis notes that its pact with Babcock follows an agreement signed earlier this year with France-based adversary training company STDS, plus a similar arrangement with the UK's Ascent Flight Training.
The tie-up with Babcock was signed at the DSEI show in London, where Aeralis also unveiled a new series of designs based around its common core fuselage concept. To be led by development work on a single-engined advanced jet trainer, its activities could also span a twin-engined trainer, adversary training platform and a potentially unmanned intelligence, surveillance and reconnaissance platform.

Craig Hoyle joined Flight International in 2003, and has edited the now monthly title since 2015. He has reported on the UK, European and international military aviation sector for more than 25 years, and produces our annual World Air Forces directory.
View full Profile