The US government has approved a joint effort to combine the self-protection capabilities of BAE Systems Inc's AAR-57 common missile warning system (CMWS) and Leonardo's Miysis directed infrared countermeasure (DIRCM) technology.
Announced on 15 February, the advance "will significantly enhance aircraft survivability against advanced threats" for international operators, the companies say.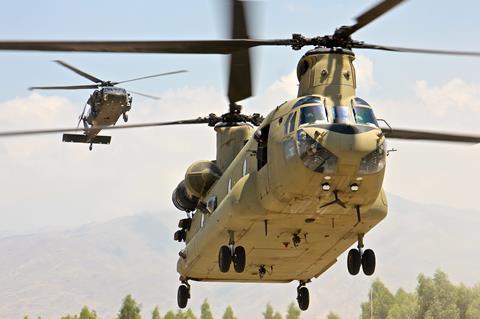 "The BAE Systems-Leonardo solution will allow existing CMWS users to add a proven, readily exportable DIRCM capability in the most cost-effective way," the partners say.
"International customers who operate the AAR-57 now have a fast, simple and low-risk way to equip their platforms with gold-standard DIRCM protection against infrared missiles," says Tony Innes, Leonardo's vice-president sales, radar and advanced targeting.
"In a scenario where an aircraft comes under threat from IR missiles, the CMWS will detect the incoming threat, alert the crew and automatically cue the Miysis DIRCM," Leonardo says. "Miysis will then quickly overwhelm the incoming missile with a powerful stream of laser energy, defeating the missile's targeting system."
"Using interoperable, combat-proven systems is a smart, efficient, and cost-effective aircraft survivability solution for our international customers," says Chris Austin, BAE's director of integrated survivability solutions.
BAE says it has so far supplied more than 3,000 of its US-produced CMWS units, for installation on over 40 rotary- and fixed-wing platform types, with customers including the US Army and international buyers.
Leonardo notes that its Miysis equipment – manufactured in Edinburgh, Scotland – offers customers an ITAR-free solution to enhance platform protection.

Craig Hoyle joined Flight International in 2003, and has edited the now monthly title since 2015. He has reported on the UK, European and international military aviation sector for more than 25 years, and produces our annual World Air Forces directory.
View full Profile