BAE Systems has joined forces with UK unmanned air vehicle manufacturer Malloy Aeronautics to design and market an all-electric vertical take-off and landing design capable of carrying a 300kg (661lb) payload.
The "heavy lift" T-650 model was revealed at the tri-service DSEI exhibition in London on 14 September, with BAE displaying a model of the vehicle carrying a Sting Ray torpedo. It features an aerodynamic body produced using a "bespoke carbon structure", and has four propellers positioned at the end of extended arms.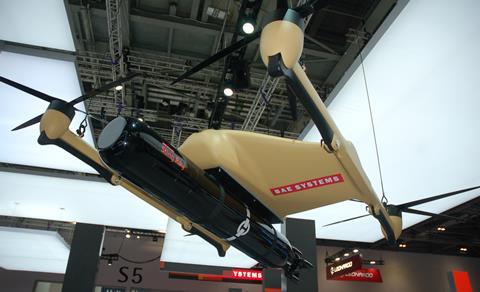 With a maximum speed of 75kt (140km/h) and 16.2nm (30km) range at maximum take-off weight, the "uncrewed" platform could be employed for tasks including resupply, anti-submarine warfare, maritime search and rescue and casualty evacuation, the companies say.
While BAE has more than 15 years of experience in developing and testing fixed-wing autonomous air vehicles, "Malloy are experts in rotary craft", notes Dave Holmes, advanced projects, technology and manufacturing director for its air sector business. It also produces lithium-ion batteries for its existing product range which it claims offer the highest energy density in their class.
The UK Royal Navy has shown interest in potentially fielding a future unmanned heavy lift capability. This has been supported by the Royal Marines testing Malloy's T-150 air vehicle, which has a maximum payload capacity of 80kg, during ship-to-shore logistics flights of up to 3.8nm in locations including Cyprus, Norway and the USA.
The same platform has also been used to demonstrate the ability to deploy a life raft, and drop a sonar.
In addition to its military potential, Malloy chief executive Oriol Badia points to the T-650's suitability for the "commercial, security and humanitarian arenas, and civilian applications".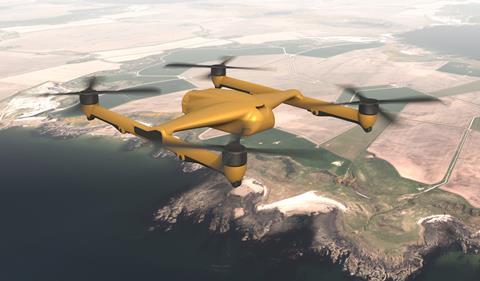 "Our goal is to work together with BAE Systems to ensure that our capabilities are not just the first and best for defence, but that they become the future workhorse to keep all our personnel safe," Badia adds.
A flying testbed for the T-650 is currently in the design phase, with Holmes expecting this to be flown at BAE's Warton site in Lancashire from the second half of 2022. Customer vehicles could be available to support operational evaluation activities from 2023, he says.