BAE Systems has secured a contract to produce the Block 4 electronic warfare (EW) systems for the Lockheed Martin F-35 fighter.
The new Block 4 capabilities will be part of the fighter's Lot 17 production tranche, says BAE.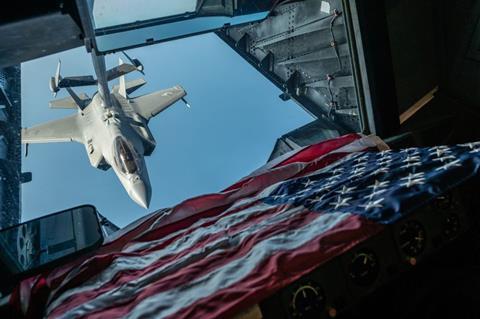 The contract was awarded by the fighter's prime contractor, Lockheed Martin, and is valued at $491 million. The work will add to the 1,200 F-35 EW suites that BAE has already produced.
"The Block 4 EW system will offer greater situational awareness, enhanced survivability and increased capabilities to counter modern threats, and is upgradable to address evolving threats," says Lisa Aucoin, vice-president of F-35 Solutions at BAE.
"Our adaptable EW system will help warfighters execute missions today and into the future, and will reduce engineering and sustainment costs for the US Department of Defense and its allies."
The Block 4 EW suite incorporates upgraded hardware and software that improves sensing and processing capabilities, says BAE. The aircraft will be better able to detect more threats simultaneously.
According to BAE, the F-35's EW suite is designated as ASQ-239. It integrates both defensive and offensive EW capabilities such as long-range threat warning, self-protection, and target support.
"It provides 360-degree, full-spectrum situational awareness and rapid-response capabilities – allowing the F-35 to evade, engage, counter, and jam threats, and reach well-defended targets," says BAE.
In January, Lockheed secured a US Department of Defense contract for 398 more F-35s. The deal, valued at $30 billion, covers Lots 15 and 16, with options for Lot 17.
Lockheed add that the Lot 15-17 aircraft will be the first F-35s to include updated hardware needed to power Block 4 capabilities, known as Technical Refresh-3. The upgrade includes a new integrated core processor with greater computing power, a panoramic cockpit display and an enhanced memory unit.