A BAE Systems and Malloy Aeronautics team has successfully dropped an inert BAE Sting Ray Mod 2 lightweight torpedo from an electric-powered T-600 unmanned air system (UAS), as they work to develop an operational capability.
The demonstration was performed recently in Portugal, during the Robotic Experimentation and Prototyping with Maritime Uncrewed Systems, or REPMUS exercise: an activity involving 15 NATO nations, along with pending addition Sweden and non-aligned Ireland.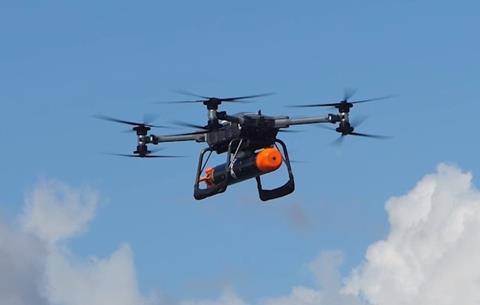 Capable of carrying a maximum payload of 200kg (440lb), the T-600 can fly at up to 75kt (140km/h), with a range of up to 43nm (80km).
The T-600 is being tested in support of the companies' joint development of a larger T-650 vehicle. To offer a 300kg payload capacity, this "will offer rapid reconfiguration capabilities applicable to military, commercial and humanitarian uses", BAE says.
Potential roles for such a vehicle include "automated logistics and resupply, casualty evacuation, and anti-submarine warfare", it adds.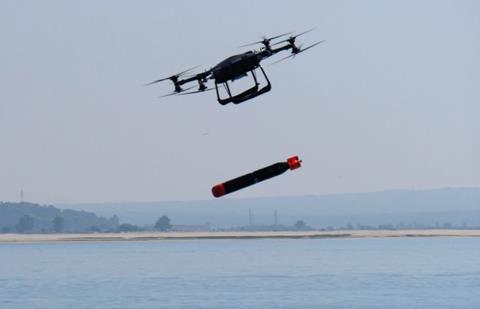 "It's a fantastic achievement in our collaboration with Malloy and a sign of our joint ambitions to bring new capabilities to our customers," Neil Appleton, head of electric products at BAE Systems' Air sector, says of the recent success.
"Modular, multi-mission UAS can reduce the logistics burden and increase operational tempo at a fraction of the cost," says Malloy chief executive Oriol Badia.
BAE and Malloy announced their collaboration on the heavy-lift T-650 at the DSEI show in September 2021.
General Dynamics UK and L3Harris were also involved in the Sting Ray demonstration.
Meanwhile, the BAE Systems Australia-developed Strix vertical take-off and landing (VTOL) UAS is expected to be flown for the first time next year.
Unveiled at the Avalon Airshow in March 2023, the tail-sitting Strix is a 430nm-range system capable of carrying a 180kg payload, such as two BAE Systems Australia Razer or MBDA Brimstone air-to-surface missiles, or MBDA Sea Venom anti-ship missiles. It is designed to be transported within a 6m (20ft)-long ISO shipping container.
"Vertical take-off and landing is required by many of our militaries, because it affords operational flexibility to use the system in places where you don't have a prepared runway, or a class of vessel that you could take off from conventionally," BAE Systems Australia business development lead – land, John Shipp, said at the DSEI show in London earlier this month. "The goal in terms of its take-off and landing would be effectively the touch of a button, and everything else would be automatic," he adds.
"We will be proceeding to flight testing an electric VTOL variant in the first half of 2024," Shipp says.

Craig Hoyle joined Flight International in 2003, and has edited the now monthly title since 2015. He has reported on the UK, European and international military aviation sector for more than 25 years, and produces our annual World Air Forces directory.
View full Profile