BAE Systems is on course to deliver Qatar's first Eurofighter Typhoons before year-end, with flight-test activities ongoing at its Warton final assembly site in Lancashire.
"The Qatar Typhoon and Hawk programme is progressing well," the UK company says in a half-year financial results summary published on 28 July. "The first Typhoon deliveries will commence in the second half of 2022."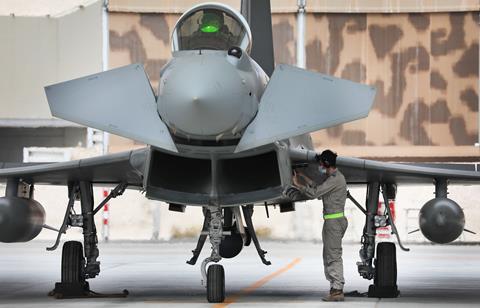 Cirium fleets data indicates that five of Doha's eventual 20 single-seat Typhoons have been flown so far. The service also will receive four two-seat examples and nine Hawk 167 advanced jet trainers via a roughly £5 billion ($6 billion) contract initiated in September 2018.
Six of the Qatar Emiri Air Force's Hawks have been delivered to date, according to Cirium, with the type employed in support of pilot training activities involving a joint Qatar/UK Royal Air Force (RAF) squadron based at Leeming in North Yorkshire. The nations also have a joint Typhoon training unit, 12 Sqn, located at RAF Coningsby in Lincolnshire.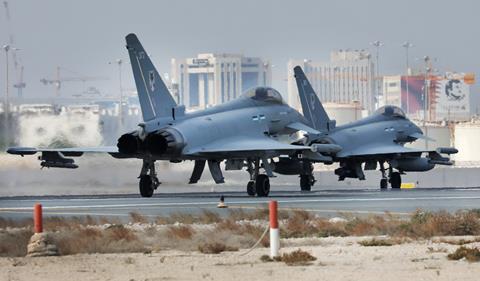 Meanwhile, BAE says its production activities on the Typhoon have been extended by Madrid's June signature of a follow-on contract to acquire a further batch of the combat aircraft for around €2 billion ($2 billion).
"We received an order for more than £500 million for our workshare for major unit production for an additional 20 Typhoon aircraft for the Spanish air force," BAE Systems Air says. "Germany's [Project Quadriga] Typhoons are in production and the recent contract for Spain extends our Typhoon production beyond the middle of the decade," it adds.
Along with its Eurofighter consortium partners Airbus Defence & Space and Leonardo, BAE continues to seek additional export sales of the Typhoon. Further orders would help the companies to avoid an industrial gap before deliveries of potentially two European Future Combat Air System products commence from around the mid-2030s.
BAE reported sales worth just under £10.6 billion and revenues of £9.7 billion for the first six months of 2022, up from £10 billion and £9.3 billion respectively in the same period a year earlier. Its current order backlog values £52.7 billion, up from £44 billion at the end of 2021.

Craig Hoyle joined Flight International in 2003, and has edited the now monthly title since 2015. He has reported on the UK, European and international military aviation sector for more than 25 years, and produces our annual World Air Forces directory.
View full Profile