BAE Systems will within the coming weeks conduct its first test flight of a Pipistrel Velis Electro, with the Slovenian-built light aircraft having been delivered to its Warton site in Lancashire earlier this month.
The UK company has bought the single-engined, 600kg (1,320lb) aircraft to conduct research as it eyes a Royal Air Force (RAF) requirement to field an all-electric type for use during air experience flight, university air squadron and elementary training activities. The service has identified the need as part of its drive towards achieving net zero carbon emissions by 2040.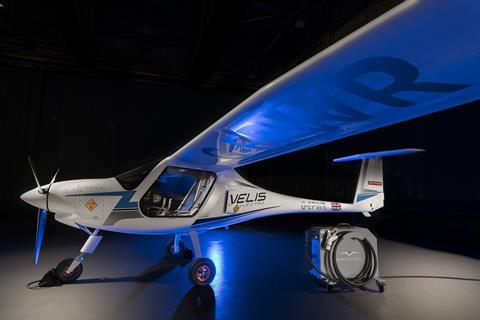 Currently housed within a hangar at Warton, as BAE awaits the completion of paperwork before flight activities can begin, the asset has been registered as G-EPWR (nicknamed "E-Power").
Neil Appleton, head of electronic products at BAE Systems Air, notes that the company earlier this year signed a memorandum of understanding with Pipistrel – which was recently acquired by Textron Aviation – to explore the potential for jointly developing a future military trainer product.
BAE test pilot Neil Dawson notes that such an operational aircraft would need to "significantly larger" than the European Union Aviation Safety Agency-certificated Velis Electro, which also lacks the aerobatic capability required for a role with the RAF.
"Our aim is to learn about the aircraft," notes Dawson, who completed differences training totalling five flights on the 50min-endurance Velis Electro in Slovenia in preparation for operating the type in the UK.