BAE Systems has launched a new technology incubator for the combat air sector, branding the unit FalconWorks.
Formally revealed on 10 July, FalconWorks already counts more than 1,000 employees located at six of BAE's UK sites: Brough, Filton, Prestwick, Samlesbury, Towcester and Warton.
BAE describes the new division – planning for which was launched more than 18 months ago – as a "centre for advanced and agile research and development designed to deliver a range of cutting-edge combat air capabilities to the UK and its allies".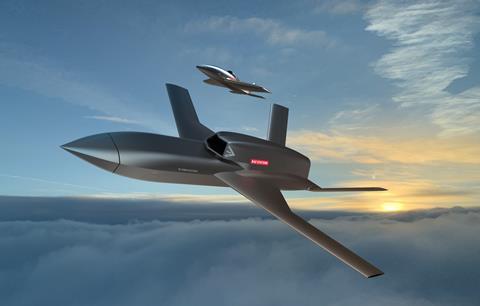 The company says it will collaborate with "new and existing partners, academia, research organisations, SMEs and national governments to deliver rapid concepting of new products and services needed by air force customers to maintain their edge".
"Defending our freedoms is becoming ever more unpredictable," says Dave Holmes, the new division's managing director. "The creation of FalconWorks is a reflection of the changing environment and our goal to ensure innovative technology development is at the core of everything we do.
"Technology is developing and being introduced at a rapid pace, which means that we need also to examine our business models," he said at BAE's Warton site in Lancashire on 3 July, noting: "how do you solve problems really quickly, and bring forward different ideas?"
FalconWorks will explore technologies such as artificial intelligence, robotics, and autonomous collaborative platforms: unmanned aircraft which could act in concert with future assets like the UK's planned Tempest sixth-generation fighter.
BAE last year unveiled a pair of concepts for such a 'loyal wingman'-type mission need.
Also included are previously identified efforts including the joint development of the T-650 cargo unmanned air vehicle with Malloy Aeronautics, and testing of the Phasa-35 high-altitude pseudo-satellite and electric-powered Pipistrel Velis Electro light aircraft.
Holmes also points to BAE's prior track record of investing in start-up companies, including taking a roughly 15% stake in the UK's Reaction Engines and its pioneering intercooler technology.
"FalconWorks will be a vital part of BAE Systems, exploring market opportunities in the UK and international air sector," the company says. It adds that its self-funded research and development spending has totalled £800 million ($1 billion) over the last three years.

Craig Hoyle joined Flight International in 2003, and has edited the now monthly title since 2015. He has reported on the UK, European and international military aviation sector for more than 25 years, and produces our annual World Air Forces directory.
View full Profile