BAE Systems has unveiled a pair of new unmanned air system (UAS) concepts as it eyes an opportunity to produce such assets to form part of the UK's Future Combat Air System (FCAS) capability.
On display at the chalet row entrance during the 15-17 July Royal International Air Tattoo (RIAT), the designs are the result of concept studies conducted by the UK company.
Sized as a 'loyal wingman'-type airframe and with a maximum take-off weight of around 3.5t, the larger 'UAS 2' platform would carry 500kg (1,100lb) of weapons within internal bays, such as two MBDA Meteor air-to-air missiles or four MBDA Spear 3-series air-to-surface missiles.
The "attritable" concept would be capable of performing more than 100 sorties, BAE says, either substituting or augmenting manned assets. Operating performance would be around Mach 0.75 at up to 40,000ft, with a projected endurance of 5h.
Dubbed 'UAS 1', the smaller vehicle is aimed at performing tasks such as intelligence, surveillance and reconnaissance, electronic- or ground-attack, with a 40kg (88lb) sensor or weapons payload. Deployed using a rail launcher, it could be equipped with a parachute recovery system if intended for reuse, and employed as a single vehicle or as part of a swarm.
With a 4h endurance, the design would fly at up to 30,000ft and M0.5.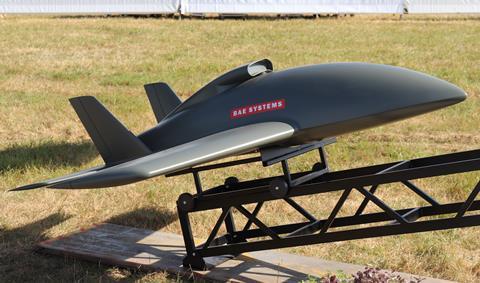 Both systems would be containerised, and potentially also suitable for deployment from maritime platforms.
Simon Reeves, head of future systems at BAE Systems Air, says such assets will draw on artificial intelligence technologies, noting: "Autonomy will play a part in the force mix."
BAE believes such a capability could be fielded much earlier than the 2035-plus period being targeted for a future manned combat aircraft via the UK's Team Tempest endeavour.
"We know this is something that our customers want and need," Reeves says of such a family of UAS. "We see a need much closer than the 2030s."
BAE's concept study work has been conducted outside of its involvement in the Team Tempest/FCAS industry grouping, which also includes Leonardo UK, MBDA UK and Rolls-Royce.
The airframer has extensive experience in the development and testing of advanced unmanned systems, including types such as Herti, Mantis and Taranis, and via activities such as the UK's Astraea airspace integration effort.
The emergence of its loyal wingman concept at RIAT came just weeks after the UK Ministry of Defence cancelled its Project Mosquito effort, which saw Spirit AeroSystems Belfast and Northrop Grumman researching the feasibility of producing a low-cost loyal wingman-type vehicle.

Craig Hoyle joined Flight International in 2003, and has edited the now monthly title since 2015. He has reported on the UK, European and international military aviation sector for more than 25 years, and produces our annual World Air Forces directory.
View full Profile