Beijing has commissioned its second aircraft carrier in a high profile ceremony in the South China Sea.
According to a China Daily story posted by the defence ministry web site and other state media, the CNS Shandong was commissioned on 17 December at Sanya on the island of Hainan, located at the north of the South China Sea. The event was attended by Chinese president Xi Jinping.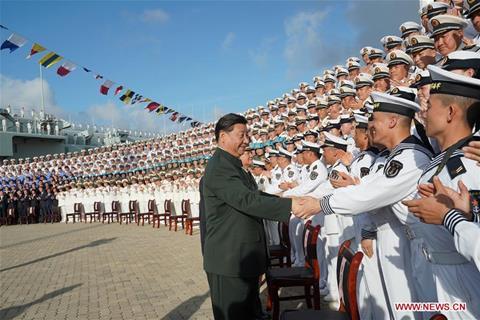 The carrier, designated Type-001A prior to the official naming, is an updated version of the Peoples' Liberation Army Navy CNS Liaoning, a carrier originally built for the Soviet Union. It is the first aircraft carrier completely built in China.
While the Shandong is intended as an operational carrier, the Liaoning's primary function is as a training vessel.
"The move saw China enter an elite club of world powers that operate multiple carriers," says China Daily. "There were previously only three countries with more than one carrier in active service — the United States, the United Kingdom and Italy."
Beijing's rival, Tokyo, aims to join this "club" as well. It is in the process of converting a pair of "helicopter cruisers", the Izumo and Kaga, into aircraft carriers capable of carrying the Lockheed Martin F-35B.
The Shandong was built in Dalian shipyard, which was also where the Liaoning was restored.
Observers suggest that commissioning the vessel Sanya was calculated to send a message to neighbours in the region. Beijing claims virtually the entire body of water, and has aggressively developed several remote islands into airbases.
The Shandong can operate up to 36 Shenyang J-15 fighters, a Chinese copy of the Sukhoi Su-33, as well as several helicopters. It uses a ski-ramp to launch aircraft. This limits aircraft payload and precludes the launching of fixed-wing airborne early warning & control (AEW&C) aircraft. The J-15, however, has a buddy refuelling capability, which goes some way to increasing the combat radius of the air wing.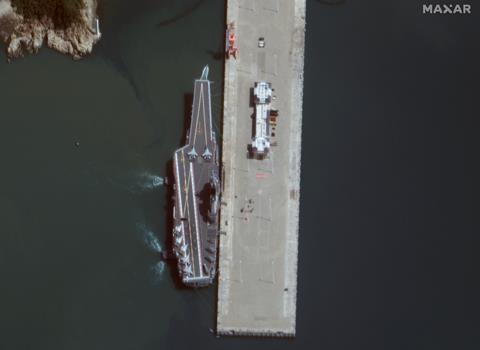 Media reports suggest the J-15 has suffered a number of crashes and safety issues. It is understood that Beijing wants to develop a new carrier-borne fighter, potentially based on the AVIC J-31 or Chengdu J-20.
Beijing also has ambitions to develop larger, American-style super carriers with electromagnetic catapults. Recent unsourced reports have suggested that the cost and complexity of these project are of concern.
"The deployment of the fighter jets on the new carrier was a stark contrast to the first service days of CNS Liaoning, that did not feature any combat aircraft. It also indicates CNS Shandong has likely gained initial operational capability," says China Daily.
"Carrying the hull designation number 17, CNS Shandong is the largest, mightiest and most sophisticated naval ship ever developed and built in China."