The People's Liberation Army Air Force (PLAAF) has commissioned the air-to-air refuelling variant of the Xian Y-20 strategic transport.
The type is designated YY-20, according to the official China Daily newspaper. In the past, the tanker variant has also been referred to as the Y-20U.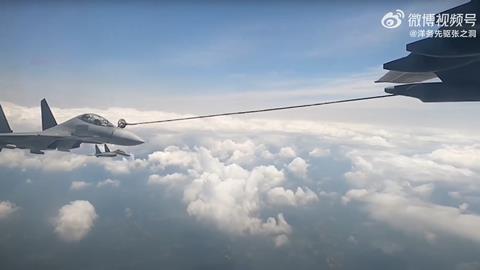 The China Daily adds that the YY-20 recently conducted air-to-air refuelling exercises with Shenyang J-16 fighters (China's version of the Sukhoi Su-30) over the sea.
Footage released on social media shows the YY-20 refuelling J-16s in mid-air.
The paper quotes PLAAF Colonel Shen Jinke as saying that the type can undertake both air-to-air refuelling missions as well as standard personnel and cargo transport tasks.
The lack of a comprehensive air-to-air refuelling capability is a key weakness of the PLAAF.
The PLAAF has 24 elderly Harbin H-6Us for the tanker role, but these are powered by two gas-guzzling WP-8 turbojets, the Chinese copy of Russia's old Mikulin AM-3, and also have limited fuel capacity.
Beijing also has a trio of Ilyushin Il-78s.
It is believed that China has three YY-20s, with all three powered by four Soloviev D-30KP-2 turbofans. Future versions are likely to be powered by the developmental Shenyang WS-20. The locally-produced WS-20 has been spotted on a Y-20 test aircraft, and features a higher bypass ratio.
A fleet of large, capable tankers will allow PLAAF bombers and fighters to more easily operate beyond the 'First Island Chain', which runs through countries such as Japan, Taiwan, and the Philippines.