The People's Liberation Army Air Force (PLAAF) continues to probe Taiwan's air defences on a daily basis, operating 366 aircraft sorties against the island nation since 2 August.
According to figures published daily by Taiwan's Ministry of National Defense (MND), the majority of sorties penetrate the 'median line' in the Taiwan Strait that divides China and Taiwan.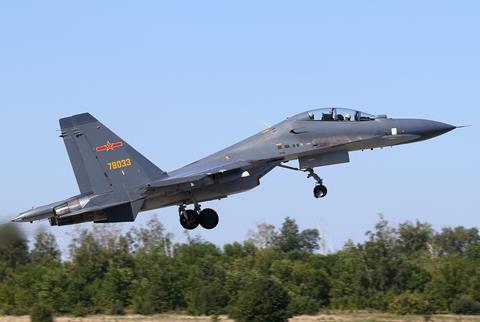 This is a marked change from previous PLAAF incursions, which took place south of Taiwan in the island nation's air defence identification zone (ADIZ).
The number of sorties also greatly increased from July, when the MND reported 53 incursions into the southern ADIZ. According to the ministry, all incursions trigger a combat air patrol, radio warnings, and monitoring with air defence systems.
The recent massive spike in PLAAF aerial incursions were prompted by the visit of US House Speaker Nancy Pelosi to Taiwan on 2 August. The visit enraged Beijing, which views self-governing Taiwan as a breakaway province, and has not ruled out the use of force to conquer the island.
Following Pelosi's visit, Beijing conducted a series of aggressive military exercises around Taiwan from 4-7 August. This included the launch of missiles into the seas around Taiwan, as well as the dispatch of naval vessels and aircraft sorties. The exercise, likely planned well before the US official's visit, appeared designed to test the ability of diverse Chinese units to work together.
Analysts say the exercises demonstrated Beijing's ability to isolate Taiwan. In the event Beijing decides to start a war for Taiwan, the PLAAF would be tasked with gaining air supremacy over the island and conducting strikes against ground targets.
Should allies such as Japan and the USA be drawn in, the PLAAF's mission will be even broader, possibly involving strikes against military bases in locations such as Okinawa and Guam. For such operations to be possible, it is imperative that PLAAF pilots have experience operating over water.
The day of Pelosi's visit itself, Beijing sent 21 aircraft in the southern ADIZ, comprising eight Shenyang J-11s, 10 J-16s, one Shaanxi KJ-500 airborne early warning and control (AEW&C) aircraft, one Shaanxi Y-9 electronic warfare (EW) aircraft, and a Y-8 electronic intelligence aircraft.
This was followed by 27 aircraft on 3 August, 22 aircraft on 4 August, and a massive deployment of 48 aircraft on 5 August. Subsequently, the PLAAF has continued to mount large daily incursions, frequently with over 10 aircraft involved.
Fighters accounted for 342 of the incursions, or 93% of the total, up from around half of all sorties flown in July.
Among specific types, the Sukhoi Su-30 accounted for nearly 50% of the total, followed by the J-11 (China's copy of the Su-27) with 79 sorties, and the J-16 (China's copy of the Su-30) with 72.
Given the visual similarities of the aircraft types the PLAAF is operating, it is possible that the specific numbers of each could vary. Taipei generally does not provide images of the intruders, and when it does it provides file photographs. Still, it is notable that a Russian-built type should feature so prominently in PLAAF sortie rates.
Also notable is the relative absence of the PLAAF's workhorse single-engined fighter, the Chengdu J-10. The type has accounted for just 21 sorties since 2 August, or 5.7% of the total. Beijing's premiere bomber, the Harbin H-6, has also been relatively absent, with just five sorties recorded.
Support aircraft that the MND lists as making incursions include Y-8 anti-submarine warfare (ASW) aircraft, and Y-8s configured for the EW, signals intelligence, and reconnaissance missions. China's primary AEW&C type, the KJ-500, has been involved in just two sorties.
The absence of the H-6 and KJ-500 from the MND's figures could, however, suggest that these platforms are practicing sorties against Taiwan, but merely holding well back from the Taiwan Strait. In a conflict the KJ-500 should be able to control fighters at significant ranges, while the H-6 features stand-off capabilities, including the KD-88 cruise missile, with a published range of 107nm (200km) – at its narrowest point, the Taiwan Strait is only 100 miles (160km) wide.
Helicopters have also been relatively absent from Chinese incursions, with the MND reporting just two ASW rotorcraft – a Kamov Ka-28 on 8 August and a Harbin Z-9 on 15 August. It is possible these helicopters were operating from a Chinese warship.
Also missing are Beijing's two top fighters, the Su-35 and low observable Chengdu J-20. Should a major conflict break out, a primary role for the J-20 would be piercing allied fighter screens to attack support assets such as AEW&C aircraft and tankers.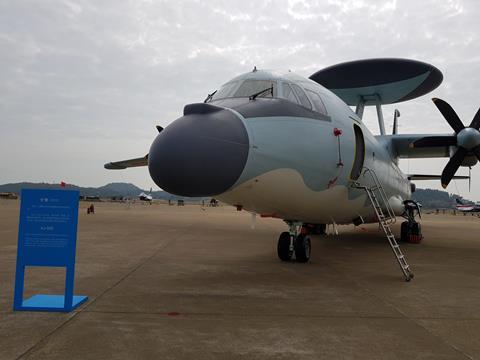 China's newly inducted tanker, the Xian Y-20U, has also only made one appearance in MND incursion statistics. As with the KJ-500, however, China's small number of H-6U and Y-20U tankers would likely orbit in relative safety over the Chinese mainland.
Large Chinese unmanned air vehicles have also not made an appearance.
Although Pelosi's visit was a clear boost for Taiwan's morale, it appears a lasting legacy will be more frequent and more intrusive Chinese aerial incursions, with a clear focus on the median line, as opposed to the southern ADIZ. And should Beijing decide to strike under the cover of a routine incursion, Taiwan's leaders will have precious little time to react.
Washington DC is well aware of the incursions.
"They have been more active in the air, they have been more active at sea," US undersecretary of defense for policy Colin Kahl said on 24 August.
"We should anticipate that whatever the ultimate level ends up being, it will be higher than it was before… and our reaction is not to invite conflict or to generate unnecessary frictions, but to basically make clear that Beijing's gambit isn't going to pay off. That if their goal was to coerce us and the international community to back off, it's not going to work."