Beijing foresees a series of networked platforms performing the future airborne early warning and control (AEW&C) mission, as opposed to relying solely on dedicated assets.
According to Lu Jun, chief designer the Xian KJ-500, the future AEW&C mission will rely both on traditional platforms as well as smaller aircraft, working together to build an "information network".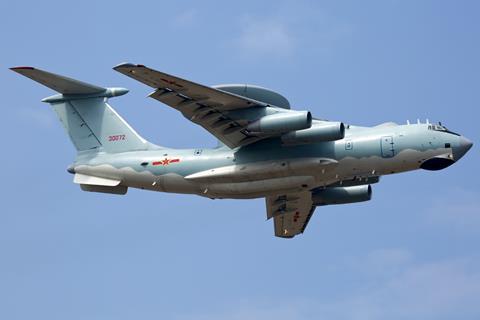 The smaller aircraft, operating as part of an overall system, are deemed as more capable of dealing with targets such as stealth aircraft and drones.
Lu made the remarks at a seminar organised by China's Xinhua News Agency, according to a story carried by Beijing's Global Times mouthpiece.
In addition to incorporating aerial assets, the system should also work seamlessly with space, ground, maritime and underwater units.
The People's Liberation Army Air Force (PLAAF) operates several AEW&C platforms. The most capable is understood to be the KJ-2000, which pairs an Ilyushin Il-76 airframe with a non-rotating, three-sided active electronically scanned array (AESA) radar produced by China Electronics Technology Group (CETC).
The Shaanxi KJ-500, based on the Y-9 tactical transport, carries an AESA radar in a fixed dorsal radome. The KJ-200, based on the same airframer's Y-8, has a plank-array AESA radar mounted on struts. It is also believed that Beijing will develop a new AEW&C platform tentatively designated KJ-3000, based upon the Xian Y-20 transport.
Moreover, China is also increasingly equipping fighters, such as the Chengdu J-10C, J-20, and Shenyang J-11D with AESA radars.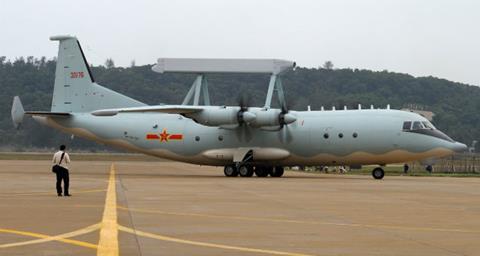 An emphasis on networking assets has long been a hallmark of Chinese defence thinking. Various exhibits at Airshow China in Zhuhai over the years have shown fighters, unmanned air vehicles (UAVs), and AEW&C aircraft using datalinks to set up kill chains to prosecute enemy assets, with aircraft and UAVs passing targeting information to air, ground, and sea units.
Using a network of systems to perform the AEW&C mission would also appear to reflect US Air Force thinking, specifically about how the Boeing E-3 Sentry is to be replaced.
There is a view that large, dedicated assets such as tankers and AEW&C aircraft will be high priority targets in future conflicts. Indeed, it is believed that a key mission for China's J-20 is attacking such high value assets.
Moreover, by spreading the AEW&C mission among a number of platforms, Chinese planners may also seek to improve overall resilience and survivability.