While Beijing's anti-access/area-denial strategy will shape the USA's aircraft carrier operations in the decades to come, the People's Liberation Army Navy remains committed to building a viable capability of its own.
The commissioning of CNS Shandong in December 2019 saw China join the elite group of countries to have built their own "flat top". The vessel is the country's second aircraft carrier after CNS Liaoning, a Soviet-era hulk that it restored to operational status.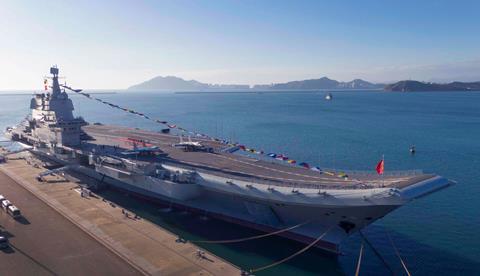 Unlike the Liaoning, which mainly serves as a training vessel, the Shandong will become an operational carrier, complete with a flotilla of destroyer escorts similar to its US Navy (USN) counterparts. It is understood that the Shandong will be able to carry up to 36 Shenyang J-15 fighters, a Chinese copy of the Sukhoi Su-33. Chinese social media, however, suggests that a successor to the J-15 is in the works.
Andreas Rupprecht is the author of Modern Chinese Warplanes, an authoritative guide to mainland air power, and a keen observer of Chinese air power developments.
He estimates that until mid-2017 only 24 J-15s were built over two batches (excluding prototypes), and that only 20 examples are operational. Still, production of a third batch seems have to started in mid-2019.
"For the future carrier-borne fighter it seems as if a decision has been made," he adds. "Most rumours hint towards a Shenyang FC-31-based design."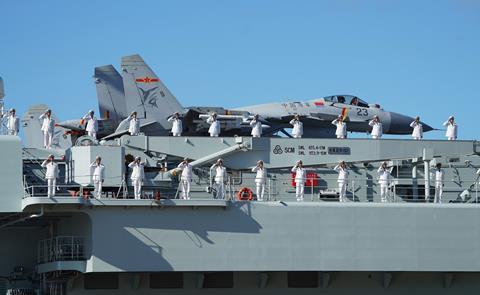 He notes that in December 2019 the Weibo account of AVIC showed an FC-31 silhouette, which coincided with AVIC/Shenyang confirming that a new fighter was under development.
If the FC-31 is, indeed, bound for carrier service it has had an interesting road. The type first appeared as the J-31 in 2012, and performed in the flying display at Air Show China in Zhuhai in November 2014.
In 2015 AVIC held a briefing on the type at the Dubai air show, but refused to answer questions about elements such as its engines, development timeline, and intended customers. Subsequently, China aviation observers tended to believe that Beijing had dropped interest in the J-31/FC-31 to focus on its main stealth aircraft, the Chengdu J-20.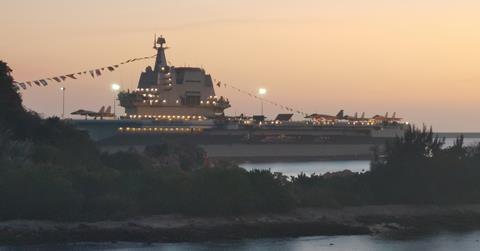 In the second half of the decade, speculation pointed to the FC-31 as the jet to replace the J-15, which has suffered numerous mechanical and safety issues, including four crashes.
As a follow-on to Shandong, satellite images suggest another, much larger, carrier is also being built in Dalian. This ship, tentatively designated Type 0003, will supposedly be equipped with electromagnetic catapults, allowing it to launch fighters with greater payloads than possible when using a ski-jump ramp, as on the Liaoning and Shandong. In addition to providing a better platform for fighter operations, it would also be enable the vessel to operate with fixed-wing airborne early warning and control (AEW&C) system aircraft, comparable to the USN's Northrop Grumman E-2.
China is understood to be working on the Xian KJ-600, a twin-turboprop AEW&C platform apparently destined for carrier operations. A CETC promotional video at Air Show China in November 2018 depicted a KJ-600 vectoring fighters against enemy aircraft.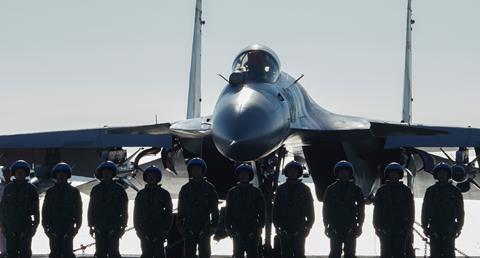 Beijing is also building the Type 075 landing helicopter dock; an amphibious assault ship that will be able to embark up to 30 helicopters.
Nick Childs, senior fellow naval forces and maritime security at the International Institute for Strategic Studies, believes that Beijing is coming to terms with how complicated such vessels are. And though China's ambitions with carrier aviation are clear, such vessels are never likely to be as central to its naval strategy as they are to USN.
"In terms of how they see their carrier force I think it is still a work in progress," he says. "But probably China's carriers will never be quite as central to the overall maritime strategic plan for the Chinese as they have been for the US Navy in the past few decades. They will have a role, but they will not be a central part in any sort of head-on confrontation."