China appears to have conducted a major reorganisation of its naval airpower, with several key People's Liberation Army Navy (PLAN) aviation units moving to the People's Liberation Army Air Force (PLAAF).
According to the US Air Force's China Aerospace Studies Institute (CASI), at least 10 PLAN brigades and one bomber regiment have been transferred to the PLAAF.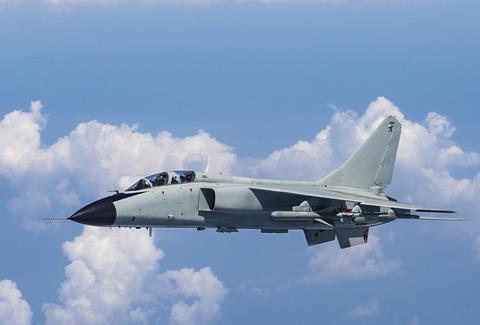 The PLAN retains just eight aviation units, while the status of another unit, the 5th aviation brigade, is unknown.
The transfers account for most of the PLAN's strike and air combat capabilities.
"In terms of maritime capabilities, this transfer of forces places greater demands on the theatre joint command system when executing maritime strikes," writes Rod Lee, author of the CASI report.
"Previously, in having its own maritime strike aircraft, the PLAN could execute relatively complex maritime strikes without leveraging kinetic capabilities from the other [People's Liberation Army] services."
The realignment may have several benefits, writes Lee. These include expedited management of forces under the PLAAF and improved standardisation. He notes that PLAN crews of Xian H-6 bombers receive different training than their counterparts in PLAAF H-6 units.
The reorganisation also creates a more seamless air defence picture along China's coastline. While the PLAAF was tasked with air defence along most of China's coast, the PLAN had responsibilities for two areas, including Hainan Island and the province of Zhejiang. The PLAN and the PLAAF were jointly responsible for air defence of the northern Shandong province.
"By realigning these former PLAN units under the PLAAF, the PLA did away with a potential geographic seam in the command and control of air defence missions," writes Lee.
Lee adds that the move will free the PLAN focus on carrier-based operations, although it may lose some capabilities, such as laying mines from Xian JH-7 and H-6 aircraft – it retains Shaanxi Y-9s, which can lay mines.
The PLAN, however, retains three special mission units and an unmanned air vehicle regiment. These provide the PLAN with an organic capability for airborne early warning and control, anti-submarine warfare, as well as intelligence, surveillance and reconnaissance.
The PLAAF's acquisition of PLAN H-6s, however, could allow it to dedicate more bombers to the nuclear strike mission without impacting its capacity for conventional bombing missions.
"In all, this shift represents a noticeable change in the way the PLA organises itself," writes Lee. "Whether this was done voluntarily by the services or mandated from above, doing away with redundant capabilities across services demonstrates a marked improvement in PLA jointness."