US President Joe Biden has issued an executive order that bars US securities investment in 57 Chinese companies with defence ties, with airframer AVIC featuring prominently on the list.
The objective is to "ensure that US investments are not supporting Chinese companies that undermine the security or values of the United States and our allies," according to a fact sheet that accompanied the executive order.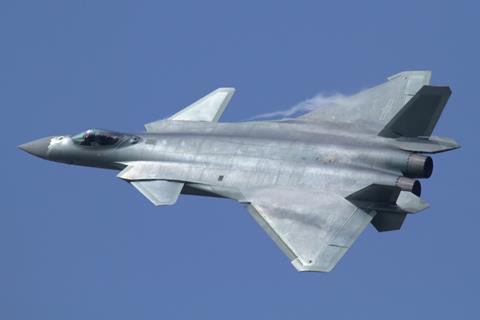 From 2 August, US investors will no longer be allowed to buy shares in the concerned companies. According to a Bloomberg report, US investors with holdings in the firms concerned have one year to unwind their positions.
The full list encompasses a range of companies, from tech firms to major Chinese aerospace players. The restrictions will be enforced by the US Treasury Department, in consultation with the State and Defense departments.
Key aerospace players in the list include the Aero Engine Corporation of China, several AVIC units, and companies involved with space.
While individual shareholdings of these firms by US investors is likely limited, several of the companies are constituents in stock market indexes such as the FTSE Emerging Market Index and MSCI Emerging Market Index. Investment groups such as Vanguard and Blackrock rely on such indexes to allocate investor funds.
| Aerospace firms banned from US investment | FTSE Emerging Mkt Index |
| --- | --- |
| | |
| Aero Engine Corporation of China | Yes |
| Aerospace CH UAV Co | No |
| Aviation Industry Corporation of China (AVIC) | Yes |
| AVIC Aviation High-Technology Company | Yes |
| AVIC Jonhon Optronic Technology | Yes |
| AVIC Shenyang Aircraft Company | Yes |
| AVIC Xian Aircraft Industry Group | No |
| China Academy of Launch Vehicle Technology | Yes |
| China Aerospace Science and Industrial Corporation | No |
| China Aerospace Science and Technology Corporation | No |
| China Aerospace Times Electronics Co | Yes |
| China Avionics System Company Ltd. | Yes |
| China Electronics Technology Group | No |
| China Satellite Communications | Yes |
| Guizhou Space Appliance Co. | No |
| Jiangxi Hongdu Aviation Industry | No |
| | |
| Source: FTSE | |
Separately, the US Department of Defense (DoD) published a similar list of Chinese military companies operating in the USA, as it was required to do under the Defense Authorization Act for the 2021 fiscal year.
"The Department is determined to highlight and counter the People's Republic of China's Military-Civil Fusion development strategy, which supports the modernization goals of the People's Liberation Army by ensuring its access to advanced technologies and expertise acquired and developed by even those PRC companies, universities, and research programs that appear to be civilian entities," said the DoD.
In December 2020, the US government issued a Military End User (MEU) list that covers a broad swathe of the Chinese and Russian Aerospace sectors. This amended the Export Administration Regulations that control the export of sensitive technologies.
AVIC units involved in developing aircraft engines were listed, including the commercial arm of the Aero Engine Corporation of China (AECC), which is developing the indigenous CJ-1000A powerplant for the Comac C919 narrowbody. AECC and its various units are leading China's development of military engines.
Several companies that produce military aircraft were also on the list, such as Chengdu Aircraft, Guizhou Aviation, Harbin General Aircraft, Shaanxi Aircraft Industry, Shenyang Aircraft Corporation, and Xian Aircraft Corporation. The Shanghai Aircraft Design and Research institute aids in aircraft design, while Shanghai Aircraft Manufacturing, which builds the ARJ21 regional jet, are both on the MEU.
Initially Comac, which is developing the C919 and CR929 airliners, was not listed, but it was subsequently added in January 2021.
The Biden administration has largely stuck with the previous administration's tough stance against China.