Boeing has announced plans to enhance the self-protection capability of its KC-46A in-flight refuelling aircraft, with new technology initiatives also to include the increased use of composite components.
Working with its Aurora Flight Sciences subsidiary, the airframer says it is "investing in further developing advanced defensive systems and countermeasures for application on next-generation refuelling and mobility platforms, including the KC-46A Pegasus tanker."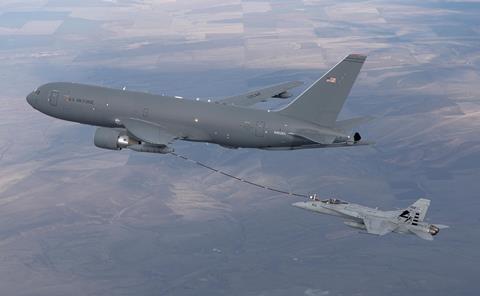 Activities to be conducted at Aurora's Columbus site in Mississippi will include "the research and conceptual design of composite components to enhance operational survivability", Boeing says, without providing further details.
"With our research and development expertise, the composites production talent at Aurora Mississippi and our collaboration with Boeing, we're building the future of next-generation refuelling and mobility capabilities and growing the team to deliver them," says Luke Colville, Aurora's vice-president of manufacturing and aerosystems.
"The KC-46A already features defensive systems that are unprecedented in a tanker," claims Justin Hatcher, Boeing's advanced technology director for the platform. "We continue to evolve the KC-46A and other next-generation refuelling and mobility platforms to further enhance mission versatility and survivability."
Boeing is delivering the 767-based KC-46A to the US Air Force (USAF) under a 179-aircraft contract, with the last examples due to be handed over in 2029.
The USAF earlier this year outlined its plans to field a future Next Generation Air-refuelling System: a stealthy, clean-sheet design planned for introduction to service around the mid-2030s.

Craig Hoyle joined Flight International in 2003, and has edited the now monthly title since 2015. He has reported on the UK, European and international military aviation sector for more than 25 years, and produces our annual World Air Forces directory.
View full Profile