Boeing Australia has conducted the first engine run for its developmental Airpower Teaming System (ATS) unmanned 'loyal wingman' aircraft.
The work is part of ground testing pending preparations of the unmanned system's first flight, says the company.
Boeing has yet to reveal the specific engine that powers the ATS vehicle, referring to it only as a "commercial turbofan engine".
"This engine run gets us closer toward flying the first aircraft later this year and was successful thanks to the collaboration and dedication of our team," says Shane Arnott, ATS programme director.
"We've been able to select a very light, off-the-shelf jet engine for the unmanned system as a result of the advanced manufacturing technologies applied to the aircraft."
The ATS is being developed in partnership with the Australian government. Though initially designed with the Royal Australian Air Force in mind, Boeing describes ATS as an "artificial intelligence [AI]-powered teaming aircraft developed for the global defence market".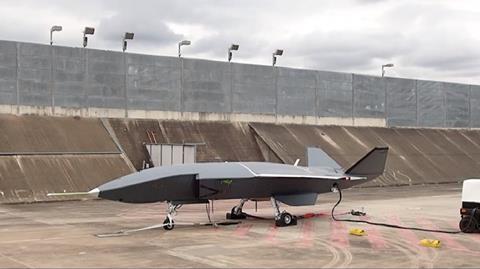 The main surprise of the 2019 Avalon Airshow near Melbourne was Boeing's public launch of the ATS project.
In addition to building the ATS vehicle, Boeing Australia has conducted extensive experimentation work locally that incorporates AI into small unmanned air vehicles (UAVs).
On 9 September, it announced that it had conducted successful experiments in which UAVs equipped with AI have been able to detect and act upon simulated targets.
Earlier work involved flight tests where three unmanned aircraft performed missions autonomously. This focused on testing mission system software for high performance unmanned jets.