Boeing Defense, Space & Security is working on a range of opportunities in the Asia-Pacific, from upgrades to new sales, as geopolitics grows increasingly challenging in the region.
Randy Rotte is the Boeing unit's regional director for India, Asia, and Pacific sales. He says the national security challenges across the region vary widely between countries.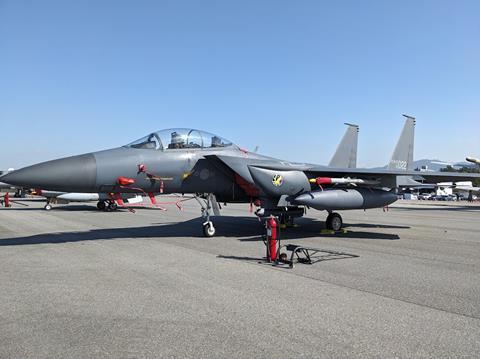 India's concerns, he notes, vary greatly from Japan's and South Korea's. Similarly, concerns and issues vary among the nations of Southeast Asia and Australia. Moreover, countries in the region can be very sensitive to how neighbours might react to certain acquisitions, and every nation has its unique acquisition process.
"As a business, you're trying to look for commonality and common themes," says Rotte. "And there are some for sure. If you think about all the trade that goes through here, maritime awareness is a common theme throughout, and for that reason two of the biggest international P-8 fleets are in the region, India and Australia."
Another common theme is humanitarian assistance and disaster relief. Rotte says that no nation buys the CH-47F chinook helicopter for disaster relief, but that the twin-rotor type is frequently involved in relief work.
Another theme is a need to upgrade aircraft fleets across the region. "You always have fleets that are either ageing or technologies that are maturing," says Rotte.
FlightGlobal spoke with Rotte at the recent Seoul ADEX defence show in South Korea, where he laid out Boeing's defence sales priorities in the region.
An opportunity in South Korea involves a potential upgrade for the Republic of Korea Air Force's (ROKAF's) 59 F-15K 'Slam Eagles'. The Boeing stand at the show featured a two-seat simulator of the F-15EX, the latest iteration of the iconic Boeing type, with large touchscreen displays.
In December 2022, South Korea's Defense Acquisition Program Administration (DAPA) announced an F-15K upgrade that will run from 2024-2034. It will see the jet receive a new active electronically scanned array (AESA) radar, new mission computer, and a new electronic warfare (EW) suite. Any deal will be done through the US government's Foreign Military Sales process.
"They absolutely want to go down [the upgrade] path," says Rotte. "We're still in the process of determining what that path looks like in terms of configuration and timeline, which obviously then results in price."
South Korea is also upgrading its existing fleet of 36 AH-64E Apache attack helicopters, which would ensure commonality for the acquisition of 36 new-build examples. In April 2021, DAPA earmarked W3.2 trillion ($3.2 billion) for 36 new attack helicopters to be obtained overseas.
Other South Korean opportunities include a requirement for four airborne early warning and control aircraft. For this Boeing is pitching the E-7, which the ROKAF already operates, against a field of business jet derivatives offered by Israel Aerospace Industries, L3Harris, and Saab. South Korea also wants 18 special operations helicopters, which sees the CH-47F pitted against the Sikorsky CH-53K.
In nearby Japan, Boeing is supporting Tokyo's ambitious project to upgrade around 70 Japanese F-15Js with AESA radars and the ability to launch long-range standoff missiles. The Japan Ground Self-Defense Force is also looking at upgrades for its CH-47 fleet.
In Southeast Asia, Indonesia may order 24 F-15EXs. Boeing and the Indonesian government signed a memorandum of understanding for the acquisition in August. Finalising the deal is contingent on the blessings of Washington DC.
"There's a lot of interest in everybody responding quickly," says Rotte of the potential Indonesian sale. "Coming from the US government, coming from Indonesia's government, and coming from Boeing. We're pulling out the stops."
Rotte adds that the region's desire for upgrades and new equipment existed before Russia's invasion of neighbouring Ukraine in February 2022, but that the war has help drive the desire for modernisation.