Boeing has entered a direct commercial sale deal with Mitsubishi Heavy Industries (MHI) related to the upgrade of Tokyo's ageing fleet of F-15J fighters.
The agreement will see MHI provided with retrofit drawings, ground support equipment and technical publications related to the first two aircraft, says Boeing.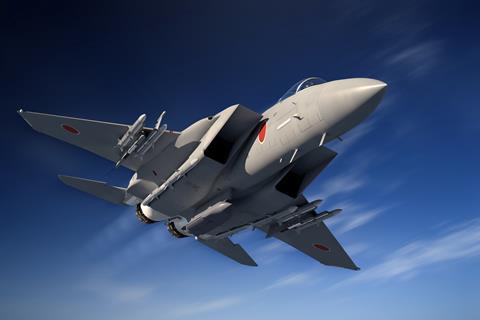 The contract lays the foundation for MHI to develop a detailed modification plan and develop facilities and the work force to start upgrading 98 jets in 2022. The companies have not disclosed the deal's value.
"The contract is part of a larger $4.5 billion modernisation programme, announced by the US government in October 2019," says Boeing.
"The upgrades will introduce state-of-the-art electronic warfare and weapons. An all-new advanced cockpit system, running on the world's most advanced mission computer, will deliver pilots enhanced situational awareness."
An image released by Boeing shows the aircraft armed with eight Raytheon AIM-120 AMRAAMs (Advanced Medium Range Air-to-Air Missiles) and a single Lockheed Martin AGM-158 Joint Air-to-Surface Standoff Missile along its centreline. Tokyo is obtaining both the anti-ship and ground-attack variants of the AGM-158 for the F-15J.
Boeing notes that MHI produced over 200 F-15Js under licence between 1980 and 2000, and that the Japanese company will serve as prime contractor for the upgrade project. MHI will receive support from Sojitz Corporation, which Boeing describes as a "trading company that works with Boeing's team in Japan".
In October 2019, the US Department of State approved the $4.5 billion package to upgrade 98 examples of Japan's Mitsubishi F-15J Eagle air superiority fighter fleet. The work will turn the type into a "Japanese Super Interceptor", said the US Defense Security Cooperation Agency (DSCA).
As part of the modernisation package, the government of Japan asked for 103 Raytheon APG-82(v)1 active electronically scanned array radars, 116 Boeing Advanced Display Core Processor II mission system computers, and 101 BAE Systems ALQ-239 digital electronic warfare systems to be installed in the F-15J fleet.
Part of the modernisation package will be sold to Japan through the Foreign Military Sales (FMS) process. The DSCA did not disclose what work would go through FMS, but said Boeing would be the prime contractor.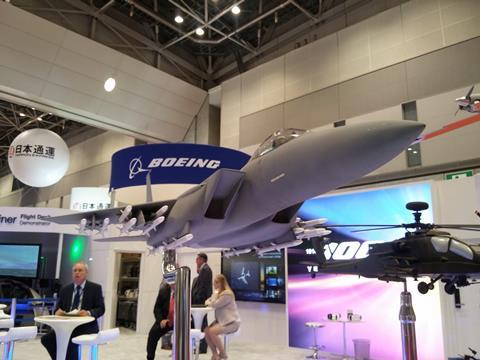 Part of the modernisation package would be sold via a direct commercial sale and would be handled by MHI, with Boeing working as a sub-contractor to integrate the total upgrade package.
At the Japan Aerospace event in 2016, Boeing's then-defence head for Japan Jim Armington told FlightGlobal that Tokyo's F-15Js had considerable time left in their airframes. He said that new technologies could help them "leapfrog" capabilities in the market.
The 2016 show also saw Boeing promote the idea of additional hardpoints on the F-15J's wings, allowing the carriage of up to 20 AMRAAMs; more than double the ordinary loadout of eight. A new artist's impression of the upgraded fighter released by Boeing suggests that Tokyo may not have taken this option. The 2016 model also featured conformal fuel tank