Boeing says conformal fuel tanks (CFTs) will be available for F/A-18E/F Block III Super Hornets on the international market, and it has also resolved a 'wing-rock' issue with the T-7A advanced jet trainer.
The airframer made the remarks during a series of virtual presentations prior to next month's Dubai Airshow. The presentations focused on the F/A-18 E/F Block III, F-15EX, and T-7A.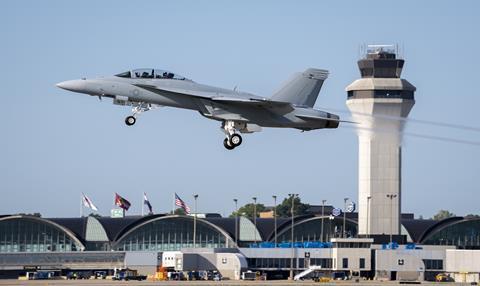 Jennifer Splaingard, vice-president and programme manager for the F/A-18E/F and its EA-18G electronic warfare variant, says that all Block III Super Hornets come with the plumbing to take CFTs.
CFTs were originally part of the original US Navy requirement to upgrade the type, but the navy suspended this element of the programme early in 2021 – the first operational Block III was delivered in September without CFTs.
"All Block III Super Hornets are plumbed for conformal fuel tanks," says Splaingard.
"We're working with the navy still on the decision of how we go forward or not with building tanks. They will be available for international customers. Most of the design work has been done on the tank… and all the plumbing inside the jet… we'll work with any country that has an operational need for conformal fuel tanks on how to integrate that into the platform."
Splaingard adds that the full complement of F/A-18E/Fs has been built for the Kuwait air force, and that the aircraft are now in testing with the US Navy. Cirium fleets data suggests that Kuwait's F/A-18E/F fleet will comprise 22 single seat F/A-18Es and six two-seat F/A-18Fs.
Speaking alongside Splaingard, Prat Kumar, vice-president and programme manager for F-15 programmes at Boeing, highlighted the heavy payload and advanced capabilities of the F-15EX, including a new open mission system and a fibre optic digital backbone. The US Air Force will acquire 144 examples of the iconic type.
"There is a lot of interest in [the F-15EX] around the world," says Kumar. "The future is bright in the near-term."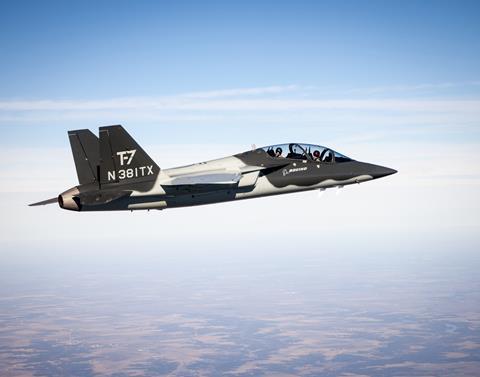 Speaking from the floor of Boeing's T-7A factory in St. Louis, Missouri, Paul Niewald, vice-president and programme manager for T-7 programmes, highlighted the trainer's digital design and engineering, which greatly simplifies production.
Niewald also says that a 'wing-rock' issue discovered in mid-2021 has been resolved. In flights with the two T-7A prototypes, it was found that the wings tended to rock left and right at high angles of attack.
"We collected more data, were able to bring that down, model it, fly some updates in our manned hardware simulator to model our simulation efforts," he says.
Following this work, a software fix was devised and loaded onto a test aircraft. A series of flights was conducted under different conditions to ensure the issue was resolved.
Niewald adds, however, that supply chain disruptions owing the coronavirus pandemic are still a challenge for the programme, mainly owing to the impact on suppliers.
He also says that Boeing will consider pitching the T-7A following a recent US Air Force request for information (RFI) for at least 100 new advanced tactical trainers. The RFI calls for an aircraft to provide initial tactical training, adversary air support, and "serve as a tactical fighter surrogate of existing and future" USAF fighters.
"This aircraft was designed with growth in mind and being able to do things besides the basic training mission," says Niewald. "What's been released is something we'll take a look at to see if we can support that need as well."
The USAF already has a programme of record to acquire 351 T-7As to replace the Northrop T-38.