Boeing has formally rolled out its new F-15QA 'Ababil' fighter for the Qatari air force, with ferry flights to commence later this year.
The roll-out took place at the company's St Louis factory in Missouri, where the F-15 is produced, says Boeing. The company provided a picture of three F-15QAs airborne with a two-tone air superiority grey camouflage scheme.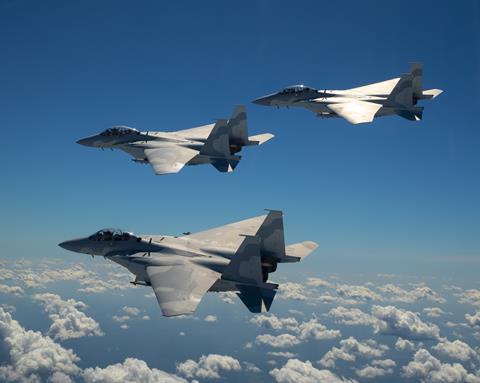 US Air Force Lieutenant General Greg Guillot, commander of the 9th Air Force, says the F-15QA strengthens the partnership between Qatar and the United States, and adds that the Middle Eastern country has placed an emphasis on interoperability.
A video of the launch ceremony shows the aircraft with an illustrative range of weapons, including Raytheon AIM-9X Sidewinder and AIM-120 AMRAAM air-to-air missiles, the Boeing AGM-84 Harpoon anti-ship missile, JDAM (Joint Direct Attack Munition), and the Raytheon AGM-88 HARM (High-speed Anti-Radiation Missile).
Boeing is in the process of providing pre-delivery pilot training, and will set up and operate an aircrew and maintenance training centre at Qatar's Al Udeid air base "through 2024". It will also provide in-country spares and logistics support.
An unspecified number of Qatari F-15QAs will fly to Al Udeid before the end of the year after pre-delivery pilot training is completed.
"The Qatar F-15QA programme further enhanced next-generation technologies in the advanced F-15 such as the fly-by-wire flight controls, an all-glass digital cockpit and contemporary sensors, radar and electronic warfare capabilities," says Prat Kumar, vice-president of the F-15 programme.
"Driven by digital engineering and advanced manufacturing, these aircraft represent a transformational leap for the F-15. The F-15QA will enhance the superiority of the [Qatari air force] with more speed, range and payload than any fighter in the world."
The Qatar Emiri Air Force will receive 36 F-15QAs under a $6.2 billion contract awarded in 2017.
The F-15QA also forms the basis of the developmental F-15EX "Eagle II", of which USAF is set to obtain up to 144 examples.
Updated with Boeing video and description of weapons loadout, as well as fighter's name.