Boeing has outlined the industrial benefits for India should New Delhi obtain the F/A-18E/F Block III Super Hornet for a 57-aircraft naval fighter requirement.
The US airframer claims that selection of the Super Hornet will provide an economic impact in excess of $3.6 billion over 10 years – beyond its existing offset obligations and plans in India.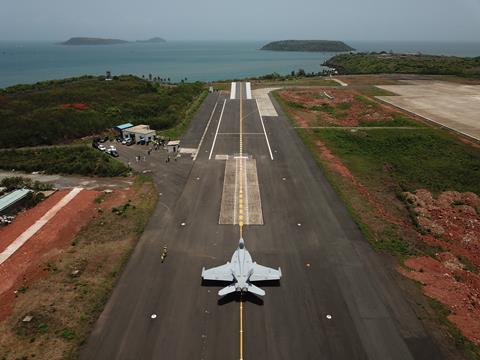 Should New Delhi obtain the Super Hornet, Boeing says it will increase Indian activities in several areas including supply chain development, manufacturing, engineering, and technology transfer, as well as support and training.
"As a trusted partner of India's aerospace sector for more than 75 years, Boeing has made significant investments in India's aerospace and defence industry and will continue to do so," says Salil Gupte, president of Boeing India.
"Our investments span the entire spectrum of local manufacturing, engineering and R&D, and training and skilling to help build a robust Aatmanirbhar Bharat in aerospace and defence."
'Aatmanirbhar Bharat' is a policy mandated by Indian prime minister Narendra Modi to make India self-reliant. Traditionally, New Delhi has demanded extensive offset packages for defence acquisitions as it seeks to build up its local expertise.
Boeing already has an extensive footprint in India related to commercial and defence sales. In addition to airliner sales to Indian carriers, the company has also sold India rotorcraft platforms such as the AH-64E Apache and CH-47 Chinook, and fixed-wing aircraft such as the P-8I Neptune and C-17 strategic transport.
Despite that string of successes, Boeing has yet to sell fighter aircraft in the country.
The company's expression of support for Aatmanirbhar Bharat likely relates to the upcoming launch of India's first indigenous aircraft carrier, the 45,000t INS Vikrant, on 2 September. Earlier this year, Boeing brought a pair of US Navy Super Hornets to Goa, where they conducted "multiple launches" from a ski-jump ramp that simulates launching from an Indian aircraft carrier. They also simulated landing on an Indian flat top.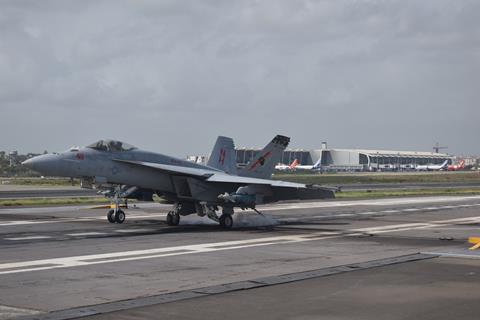 The Super Hornet's rival for the requirement is the Dassault Rafale M. One challenge facing the Rafale is the lack of a carrier-capable two-seat variant, whereas both the single-seat F/A-18E and two-seat F/A-18F are carrier-capable. The Indian requirement calls for mix of single- and twin-seat aircraft.
New Delhi has one operational carrier, the INS Vikramaditya, derived from the former Soviet Kiev-class carrier Baku. Its air wing comprises 26 RAC MiG-29Ks.
Boeing has said the Super Hornet can operate from both vessels.
"Designed from its inception as a carrier-based fighter for high-loading, high stress operations, the F/A-18E/F Super Hornet Block III will bring advanced, next-generation capabilities that will help the Indian Navy meet emerging and future threats," says Alain Garcia, vice-president, India business development, Boeing Defense, Space & Security and Global Services.
"In addition, along with the contributions to the Indian economy by our Hornet industry partners – General Electric, Raytheon, Northrop Grumman – the Super Hornet will deliver significant benefits to India's defence sector."