Boeing has completed a series of test fights in Australia exploring how high-performance unmanned aircraft can operate together using artificial intelligence (AI).
The project culminated in a sortie with five small jets operating as a team at the Queensland Flight Test Range in Clonclurry, Australia, says the company.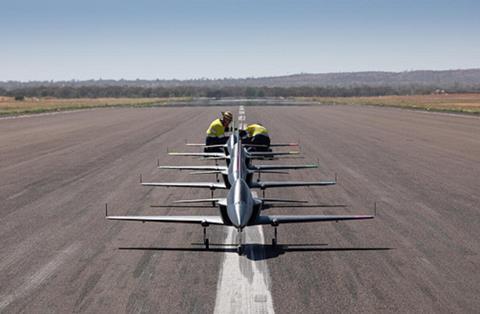 The work looked at areas such as on-board command and control and data sharing. Over 10 days of flying, aircraft were added incrementally until five operated together.
"The tests demonstrated our success in applying artificial intelligence algorithms to 'teach' the aircraft's brain to understand what is required of it," says Emily Hughes, director of Phantom Works International.
"The data link capabilities enabled the aircraft to communicate with the other platforms so that they could collaborate to achieve a mission. With the size, number and speed of aircraft used in the test, this is a very significant step for Boeing and industry in the progress of autonomous mission systems technology."
During the project the aircraft hit speeds of 146kt (270km/h).
From late 2019, Boeing has conducted a number of tests with small autonomous aircraft in Australia. In September it announced that unmanned air vehicles (UAVs) equipped with AI had been able to detect and act upon simulated targets. In addition to identifying and classifying targets, the UAVs were able to perform route planning, and also coordinate with both unmanned and manned platforms.
Learnings from the Advanced Queensland Autonomous Systems Platform Technology Project will inform Boeing's developmental Airpower Teaming System (ATS), as well as future autonomous projects.
Boeing Australia's ATS 'loyal wingman' has been conducting tests in Australia prior to its maiden sortie, which is planned before the end of 2020.
Just smaller than a combat aircraft, ATS is intended to demonstrate how advanced unmanned systems using AI can complement manned platforms in various scenarios. ATS is the first Boeing military aircraft to be designed outside the USA, and the first to be designed, engineered and manufactured in Australia for over 50 years.