Boeing has concluded a successful series of ski-jump ramp testing with the F/A-18E/F Super Hornet in Goa, as the company pursues an opportunity to deliver the Indian navy's next carrier-based fighter.
"We just finished our ski-jump testing, and it went very well," says Steve Parker, Boeing Defense & Space vice-president and general manager of bombers & fighters. "We did heavy load configurations," he adds of the activity, which concluded around early June.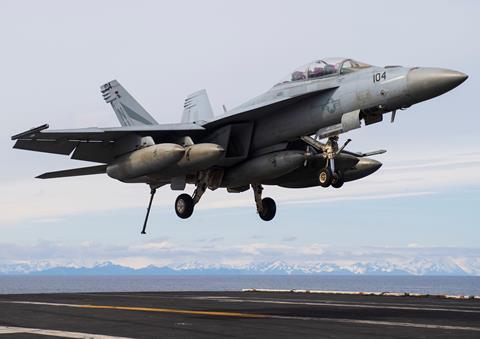 Parker declines to provide specifics of the tests performed using a pair of US Navy aircraft, but notes: "we could launch with four [AGM-84] Harpoon" anti-ship missiles.
The Super Hornet is on offer versus the Dassault Rafale – a type already in operational service with the Indian air force, but available in naval guise only as the single-seat Rafale M.
"We think we have some advantages," Parker said at the Royal International Air Tattoo on 15 July. "That competition is for a mix of single-seaters and two-seaters. We have the only two-seat aircraft that can operate on the carrier – the competition doesn't. We can carry much more weapons, and fit into the lifts on Indian carriers."
Parker indicates that the Indian navy need is for around 26, but potentially just over 50 aircraft. "It's going to be a tough competition, but we think we've got the right solution," he says.
In addition to the Super Hornet's operational pedigree as a US Navy combat aircraft, Parker points to Boeing's 'Make in India' credentials as also supporting its bid. As an example, every AH-64 Apache fuselage is produced by its industrial partner Tata, he notes.
Meanwhile, Boeing's other Super Hornet derivative – the EA-18G Growler – is attracting fresh international interest following Russia's invasion of Ukraine.
"We are talking to a lot of potential customers, around what the Growler can provide," Parker says, with this including "some NATO customers".
"Maybe the world has changed in the last six months – maybe there is a need for an electronic attack aircraft that can suppress, and jam SAM [surface-to-air missile] sites," he notes.
And Parker is bullish about Boeing's long-term prospects in the combat aircraft sector, as the US Air Force (USAF) advances its classified Next-Generation Air Dominance programme activities.
"We have been in the fighter game for a long time, and many people wrote us off not so long ago. We have relooked at our strategy and we have changed the way we design, the way we build and the technology that we are bringing in," he adds, pointing to the USAF's new F-15EX Eagle II as an example.
"We are really looking out 10 to 15 years-plus in terms of where we think the threat is coming from," he says. "We are not getting out of the fighter game."

Craig Hoyle joined Flight International in 2003, and has edited the now monthly title since 2015. He has reported on the UK, European and international military aviation sector for more than 25 years, and produces our annual World Air Forces directory.
View full Profile