Brazil has entered into discussions with Sweden for a second batch of Saab Gripen E/F combat aircraft, and also appears poised to complete an earlier top-up buy of the locally designated F-39.
"Brazil has announced that they will add four aircraft immediately to the existing contract," Saab chief executive Micael Johansson said during the company's first-half financial results call on 21 July. "In parallel, we have started a discussion on the second batch, for another 26 aircraft."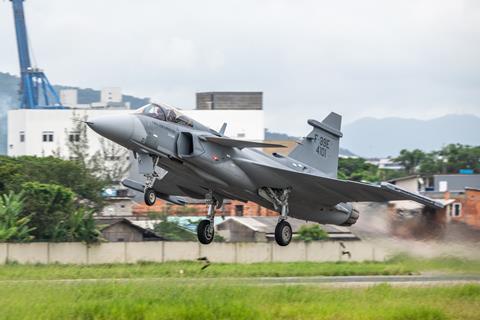 Saab's launch export customer for the Gripen E, Brazil in 2014 signed for an initial 36 examples: 28 single-seat F-39Es and eight two-seat F-model jets. The airframer earlier this year shipped the Brazilian air force's first two serial production examples to the nation, where they are now supporting military certification tasks ahead of service entry later this year.
In addition to the development with Brasilia, Johansson says there are "a couple of other countries in Latin America that look very promising" as potential Gripen E customers. He did not identify the nations involved, but Saab and its regional manufacturing partner Embraer have previously named Colombia as among sales targets for the type in the region.
Closer to home, Johnasson believes that the Gripen E will in time also receive an orders boost from Stockholm, following its recent request to join NATO. "I am quite sure that Sweden will continue to have more platforms going forward, beyond 60," he says, referring to the nation's current production commitment.
Johansson also addressed comments by the Czech Republic government, which on 20 July indicated that it would seek to replace its current 14 Gripen C/Ds with up to 24 Lockheed Martin F-35s, via direct dialogue with Washington.
Noting that Prague's existing lease agreement with Sweden's FMV Defence Materiel Administration runs until 2027, with a one-year option, he says: "We have a very successful Gripen programme in the Czech Republic today, and they are very pleased with the system."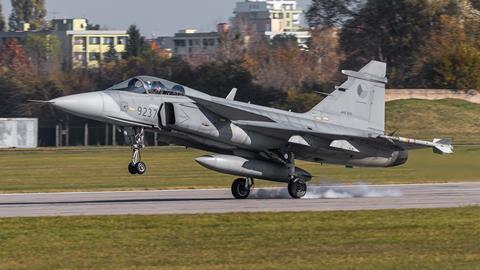 Johansson says the nation's current Gripen C/Ds could be further upgraded, or "they could seamlessly go into the E version if they like, which would be extremely efficient from an infrastructure point of view, and for the transition of people and pilots".
"We are going to give them an attractive proposal," he says. "If they want to go and have a discussion with the US, that's up to them. We will compete with the US, to say that we also have a great offer to give them on capability growth with the next-generation Gripen E.
"This is not done yet," he says. "We will be in contact with them to clarify exactly what we can offer them. We will not give up."

Craig Hoyle joined Flight International in 2003, and has edited the now monthly title since 2015. He has reported on the UK, European and international military aviation sector for more than 25 years, and produces our annual World Air Forces directory.
View full Profile