Brazil's lead pair of serial production Saab Gripen E fighters have been shipped to the country, and transferred for flight testing in Gaviao Peixoto.
Locally designated as F-39Es, the aircraft arrived at the port of Navegantes on 1 April, before completing a roughly 50min transfer to the Gripen Flight Test Center, flown by Brazilian air force pilots.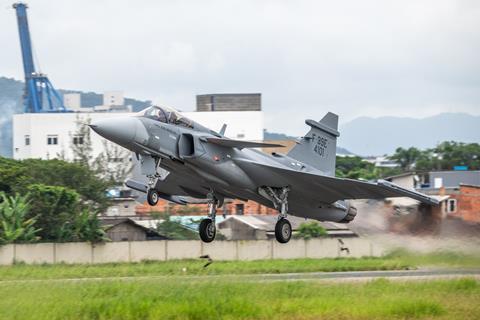 "The arrival of the aircraft is the result of a project that sought from the beginning to increase our deterrent capabilities, as well as having the objective to foster research and industrial development in Brazil," says air force commander General Carlos de Almeida Baptista Junior.
"We now have a state-of-the-art multi-mission aircraft that will be the main asset for guaranteeing the sovereignty of Brazilian airspace," he adds. Brazil plans to introduce its new fighters to service later this year.
Carrying the air force registrations 4101 and 4102, the pair will now be used to support military type certification tasks, says Saab. "Thereafter they will be transferred to Anapolis [air base] for the final stages of the delivery phase," it adds.
Brazil in 2014 placed an order for 36 new-generation Gripens, covering the delivery of 28 single-seat F-39Es and eight two-seat F-39Fs. Development work on the latter variant is being headed by Brazil, with Embraer heavily involved in the project as lead local industry partner.
A first F-39E – currently being employed to support flight testing and local systems development work – was shipped to the nation in September 2020.
Separately, Sweden's Defence Materiel Administration (FMV) has contracted Saab to conduct further development activities on the nation's Gripen C/D fleet, which will remain in use until 2035.
Spanning continued support, plus undisclosed "capability enhancements to preserve the operational relevance of the fighter", the deal is valued at SKr500 million ($52.5 million).
"The basis for the order is an extensive feasibility study carried out in collaboration between FMV, the Swedish armed forces and industry in 2021," the FMV says.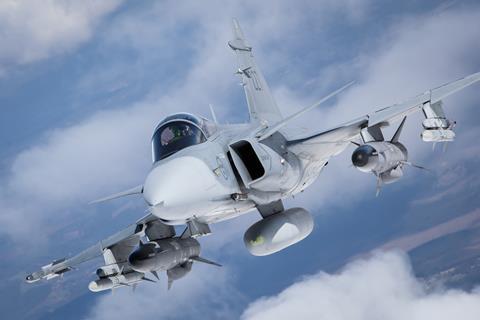 "Supplementary orders will be placed on an ongoing basis during 2022," it adds, noting that the activity also will "enable collaboration between the two versions of the Gripen system" as the Swedish air force prepares to field 60 E-model examples.