An updated engine support contract for the global fleet of Boeing C-17 strategic transports will deliver substantial savings to operators, Pratt & Whitney military engines president Jill Albertelli says.
The company on 12 July announced its receipt of a $5.5 billion contract which "provides engine services for C-17s operated by the US Air Force [USAF] and eight international partners".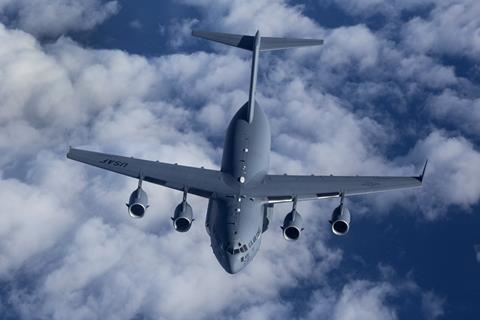 "The package will improve the F117 engine's fuel efficiency, saving up to 6.5 million gallons of fuel annually and reducing CO2 emissions by up to 140 million pounds per year," P&W says.
Updates – to be incorporated during routine maintenance – also "will eliminate more than 20 shop visits per year thanks to extended time on wing, and save the customer approximately $29 million per year in fuel costs", it adds.
Key modifications will include the adoption of a new compressor blade coating which P&W and the US Air Force Research Laboratory estimate will reduce fuel burn by 1.3% and "extend time on wing by up to 16%".
With the global C-17 fleet drawing on a common pool of engines, the updates will benefit all users of the type, Albertelli stresses. Pointing to the operational and environmental benefits of the enhancement as air forces look to reduce their greenhouse gas emissions, she adds: "It has been a question that many of the international partners on the programme have asked about."
With work to run until the second half of 2027, modifications will be performed at Tinker AFB in Oklahoma, plus facilities in Columbus, Georgia and San Francisco, California.
Cirium fleets data indicates that there are 273 C-17s in active use, with the USAF operating 220: some 80% of the total. International users are Australia (8), Canada (5), India (11), Kuwait (2), Qatar (8), the United Arab Emirates (8) and the UK (8). The Papa air base, Hungary-based Strategic Airlift Consortium of NATO and Partnership for Peace nations also flies three, under the Heavy Airlift Wing banner.
"F117 engines have accumulated more than 17 million flight hours in support of military and humanitarian missions around the globe," P&W notes.
Meanwhile, the company is powering ahead with its Engine Core Upgrade (ECU) for the F135, which will be incorporated on all variants of the Lockheed Martin F-35 by the US military from around 2028.
"I have almost 500 engineers already working on executing the programme," Albertelli told FlightGlobal on the opening day of the 14-16 July Royal International Air Tattoo at RAF Fairford in the UK.
"We are working to get to the preliminary design review completion early next year, and we are on track for that.
"We looked at incorporation very seriously and determined that we could do this… with a built-up module that can be swapped out. Sixty percent of the parts in the engine will stay the same."
While the ECU activity is so far only a US venture, Albertelli notes that "[F-35] partner countries are very interested in this" also.

Craig Hoyle joined Flight International in 2003, and has edited the now monthly title since 2015. He has reported on the UK, European and international military aviation sector for more than 25 years, and produces our annual World Air Forces directory.
View full Profile