Embraer has no Middle East customers for the KC/C-390, but governments in this long Lockheed Martin C-130-favouring region are now taking the Brazilian twijet transport/tanker seriously.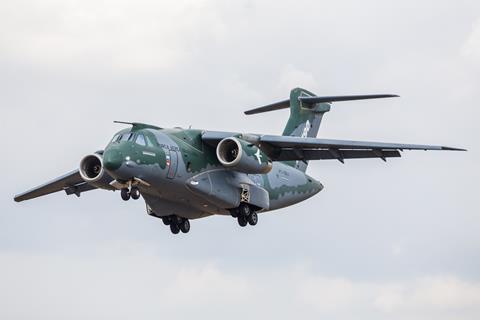 So says Jackson Schneider, president of Embraer Defence & Security, who maintains that the increasing operational experience of the domestic customer is boosting the type's credibility.
The Brazilian air force (FAB) has four C-390s in service, and Schneider says recent missions – including the Covid-19 relief effort to remote regions of the country, supplying aid to Lebanon after the Beirut port disaster, and helping Poland with aid for and the evacuation of refugees from Ukraine – have demonstrated the type's flexibility to the market.
"The C-390's multi-mission abilities are one of its key strengths," says Schneider.
Last month, Embraer agreed with the FAB to cut its C-390 order, originally placed in 2014, from 28 to 22. However, earlier reports had suggested the fleet might be reduced to just 15 units.
Schneider says the move was inevitable given the budget cuts due to an economic downturn caused by the pandemic and a depreciating real. Brazil pays for its C-390s partly in dollars.
Saudi Arabia and the United Arab Emirates are among the Gulf countries that operate versions of the C-130.
"We respect the C-130 which has a great legacy, but it is a plane designed 70 years ago with all the dynamics of design known at the time," he told FlightGlobal at the World Defense Show in Riyadh on 6 March.
By contrast, the C-390, which Hungary and Portugal have also ordered in modest numbers, has been developed from Embraer's successful E-Jet regional jet family and has a dual military and civil certification, as well as superior life-cycle costs, he asserts.
"We are seeing strong interest throughout the region," he says of the aircraft. "We are not seen as a newcomer any more."