Buoyed by its recent receipt from India of a long-awaited contract to produce 56 C295 medium transports, Airbus Defence & Space believes there are further strong opportunities to add to the type's order book.
New Delhi signed a production contract on 24 September, just over two weeks after its Cabinet Committee on Security had given the green light to replace the Indian air force's veteran HS 748 Avro transports.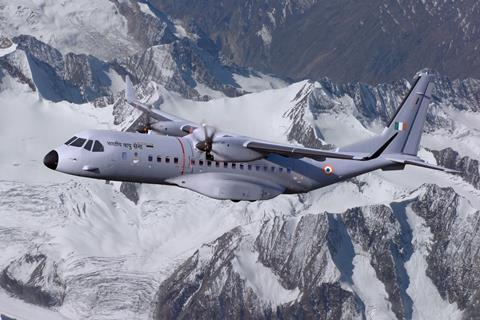 Sixteen of the aircraft will be assembled at Airbus's San Pablo site in Seville, Spain, with the remaining 40 to be manufactured in India by industrial partner Tata Advanced Systems. Deliveries are scheduled to commence in late 2025.
"This is a real new era for the C295 programme," says Airbus Defence & Space head of military aircraft Jean-Brice Dumont. "This success in India clearly outranges all other contracts we've had. India will eventually be the biggest C295 customer."
Airbus earlier this year delivered its 200th C295, with the Royal Canadian Air Force as the recipient. The global fleet has to date accumulated over 500,000 flight hours, with Cirium data showing that Egypt is the largest operator, with 22 currently in active use.
Dumont notes than including the company's success with closing the Indian deal, it has in 2021 secured orders for "much more than 60" examples of the airlifter, adding: "we are closer to 70 now". Airbus confirms that it has secured orders for "eight aircraft from different customers". A single-unit deal for the Royal Thai Army was announced in June, but the other buyers have not been identified.
Referring to the versatile C295 as being a form of "Spanish army knife", he adds that work to develop an armed intelligence, surveillance and reconnaissance version is continuing.
"We have tested different configurations this year, to check the aerodynamic effect. The capability of the aircraft to carry different weapons is being proven for needs that our customers may have," he says.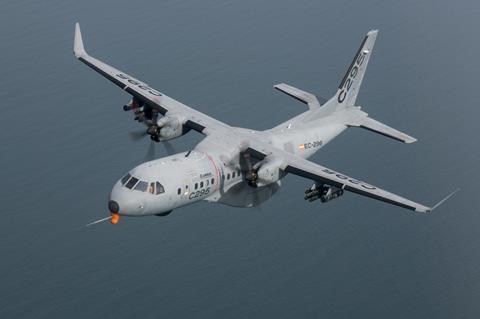 Testing has also involved using a COMMOMISS capability, which enables the aircraft's FITS onboard mission system to be operated from the ground.
"When you have got a remote capability to control, and gather data from the aircraft, you really enhance the capability, compared to local control by a limited number of crew in the aircraft," he notes. "You can have more people, you can deal with data faster – there is no limit in computing power."