Even before the US Air Force (USAF) ordered an initial eight examples in an EX-model configuration in July, Boeing's F-15 programme had already achieved remarkable longevity.
Worth almost $1.2 billion, the award marked the first step towards the service acquiring a planned 144 of the type: total business valued at $23 billion. Longer term, EX output for the USAF could reach 200 airframes.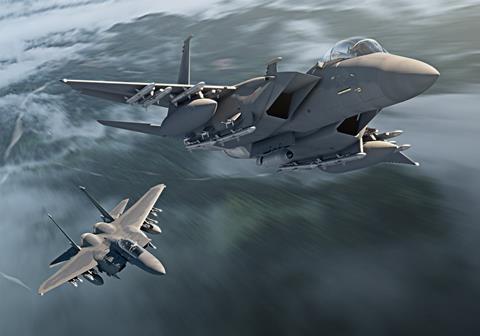 At the time of the contract announcement, an initial pair of test aircraft were already in the advanced stage of assembly at Boeing's St Louis site in Missouri. These will be flown for the first time and handed over to the air force in the first quarter of next year, and used to support assessment tasks.
Four more aircraft will be employed for development and operational testing by the service, before production deliveries swiftly commence.
In mid-August, the USAF announced that training activities will begin in 2022, at Kingsley Field Air National Guard (ANG) base in Oregon. A first active squadron to receive the type will be established at the ANG's Portland base in the same state in 2023. This rapid fielding plan was a pivotal factor in the F-15EX's selection to replace some of the USAF's F-15C/D interceptors, which Cirium fleets data shows are an average of 36 years old.
Faced with a looming shortage of air dominance fighters, the service opted to quickly acquire the new type instead of fielding some Lockheed Martin F-35As. The EX's projected per-hour operating cost of $29,000 is one-third less than for the stealthy Lightning II, and Boeing says platform and system commonality with the F-15C/D means pilots and maintainers could transition to the replacement model "in a matter of days, as opposed to years".
The USAF's selection extends a decades-old relationship. The then McDonnell Douglas delivered its first three F-15As to the service for testing in 1972, after it had selected the twin-engined type five years earlier. Initial operating capability was declared in 1975, and formal entry into service occurred during 1976.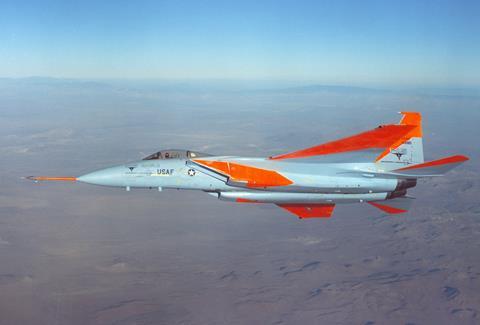 After receiving almost 800 A/B- and C/D-model fighters, the USAF also introduced the ground-attack-optimised F-15E Strike Eagle, with deliveries of 253 aircraft running between 1988 and 2004.
By mid-August 2020, total F-15 programme deliveries stood at 1,752 aircraft for the USAF and five international customers, Cirium data shows. Of that number, 1,065 remain in active service, along with four examples flown for test purposes by NASA. The USAF employs 457 C/D/Es, with the remainder flown by Israel (85), Japan (200), Saudi Arabia (224), Singapore (40) and South Korea (59).
INTERNATIONAL SUCCESS
Israel in 1976 became the type's first international customer, and its air force today has the unique distinction of still operating the F-15 in each of its A/B/C/D variants, plus 25 ground-attack-specialist F-15Is.
Annual deliveries rose rapidly to total 115 in 1977 and 116 the following year, before hitting a peak of 130 in 1979, Cirium data shows. Japan was another early adopter of the type, with Boeing- and Mitsubishi Heavy Industries-completed J/DJ examples fielded from 1980.
Cirium information shows that shipments averaged 70 per year through the 1980s, before reducing to an average of 35 during the 1990s and six in the 2000s. This came as E-model output concluded and the assembly line relied on export orders from Singapore and South Korea. Notably, 2001 saw zero deliveries made – the only blank recorded through the programme's history.
Annual output in the decade from 2010 maintained double figures, with an average of 13 handed over per year. These included more SG-model fighters for Singapore and K-variant jets for South Korea, plus a new class of Advanced F-15s for Saudi Arabia. Delivered from 2013 via an 84-aircraft procurement, Riyadh's SA-variant – which followed its earlier introduction of C/Ds – was the first to feature fly-by-wire (FBW) flight controls.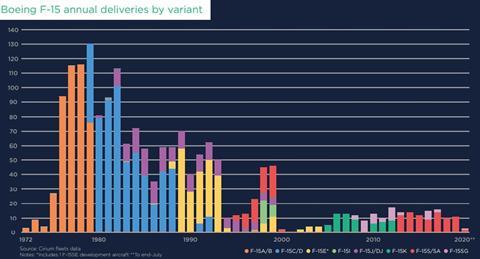 With shipments to Saudi Arabia poised to conclude, Boeing is currently producing derivative F-15QA (Qatar Advanced) fighters for Doha. The Gulf nation's first example made its debut flight from St Louis in mid-April, as part of a 36-aircraft purchase. Deliveries will run from 2021-2022, according to Cirium, while an option to double the size of its fleet could lead to another 36 being transferred between 2023 and 2025.
Boeing F-15 programme manager Prat Kumar says the USAF's new EX model also draws on the lessons of a five-year test campaign conducted for Saudi Arabia.
The USAF aircraft will retain the Advanced F-15's two-seat configuration, although the service plans to operate the type with only one crew member. Kumar says this reflects its desire to rapidly replace the C/D-model fleet with "a jet that can be incorporated into service without a lot of fielding and pilot training".
"This is a jet that first started flying in the '70s, but today we're building it in an entirely different way," Kumar says. "Digital engineering is enabling that."
By creating a "digital replica" of aircraft sections, the company has driven major production enhancements, already seen during assembly of the first two jets.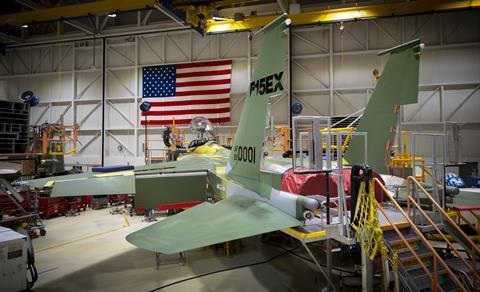 Using 3D models, Boeing has been able to more efficiently outsource work to its supply chain, for example the exact drilling of holes for fasteners.
"Parts can be manufactured in a supply base in a very precise manner," Kumar says. "When you bring [the parts] into the factory, it all comes together and the hundreds of thousands of holes line up in the assembly area." He adds: "When we did the nose barrel, after the initial learning curve, it led to almost a 70% reduction in touch labour in the workshop."
Key technologies to be incorporated with the F-15EX include a Raytheon APG-82 active electronically scanned array radar and an advanced cockpit system. This features a large-area display measuring 10 x 19in, low-profile head-up display and use of the Collins Elbit Vision Systems Digital Joint Helmet-Mounted Cueing System. This combination will provide pilots with "unprecedented situational awareness", says Kumar.
The EX will use an open mission system architecture, employing Boeing's Advanced Display Core Processor II – a technology described by Kumar as "perhaps the fastest mission computer on any fighter jet in the world". The aircraft's Operational Flight Program Suite 9.1X software will also retain commonality with the standard currently used by USAF F-15s, he adds, "maintaining interoperability across the entire fleet".
"That digital backbone, open mission systems and agile software development really forms the 'holy trinity' that allows us to rapidly test new capabilities on this jet – not just for the F-15, but broadly for the air force, that can be deployed elsewhere," Kumar says.
Self-protection will come from BAE Systems' Eagle Passive Active Warning Survivability System, which is currently in flight testing using six aircraft at Eglin AFB, Florida.
EXPANDED LOADOUT
Retaining Mach 2.5 performance and a 65,000ft operating ceiling, the fighter will have an expanded loadout of up to 12 air-to-air missiles carried at wing and fuselage stations. Other payload options include Lockheed's pod-housed Legion infrared search and track sensor, acquired for the F-15C fleet.
Alternatively, it could also provide the service with a crucial capability for a non-bomber platform to deploy a future class of hypersonic strike weapons, thanks to a centreline stores point capable of carrying a 6.7m (22ft)-long weapon weighing up to 3,170kg (7,000lb).
With its rear seat occupied by a weapon systems operator or mission manager, the EX could also over time see its use expanded from flying homeland defence missions in the USA to potentially operating in concert with so-called loyal wingman vehicles.
"It can easily be configured for manned-unmanned teaming, and we look forward to working with the air force to define this concept further," Kumar says.
Following receipt of its initial eight EXs, Cirium data indicates the USAF's subsequent 136 units would be transferred starting with 12 in 2024, rising to 16 a year between 2025 and 2030, and concluding with 14 each in 2031 and 2032. This would see the F-15 programme achieve a production run spanning 60 years.
Additional international orders could yet add to this backlog. Israel is currently eyeing a follow-on buy of Advanced F-15s, to bolster its I-model examples delivered between 1997 and 1999. Kumar says Boeing expects a letter of request for such an acquisition to emerge within the next year, with the nation also expected to request a modernisation programme for its in-service Is.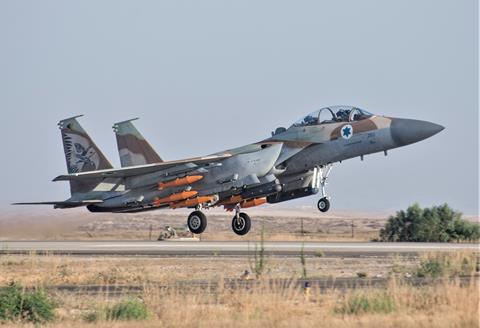 Upgrades could be made in areas such as incorporating the new cockpit layout and updated electronic warfare equipment, but could not introduce a FBW update to the legacy platforms.
Japan has already initiated a process to modify its in-service aircraft to an enhanced to JSI (Japan Super Interceptor) standard. Mitsubishi will act as prime contractor for the work, which will incorporate Boeing-supplied modification kits. Tokyo intends to have 98 of its current fighters updated as part of a broader modernisation plan worth $4.5 billion.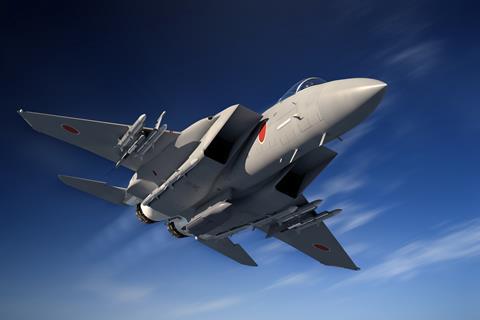 Further new-build sales also remain a possibility. India is being considered as one potential future customer, although Boeing does not currently hold a marketing licence to promote the type to New Delhi. Kumar says the company will decide on its approach for the air force's 110-aircraft requirement after a formal request for information is issued by the nation, with its F/A-18E/F Super Hornet being another potential candidate.
Beyond extending its production of the F-15 into the 2030s and providing a foundation for further export sales, the EX contract also will support Boeing's pursuit of the USAF's future Digital Century Series requirement for rapidly evolving combat capability.
While its airframe design may date back to the 1960s, the technologies now being embodied with the digital-era F-15EX could indeed see the platform become a "pathfinder" for the USAF's next generation of advanced fighters.