Canada intends to purchase a range of new air defence systems in the coming months to support its commitment to NATO member states in Eastern Europe.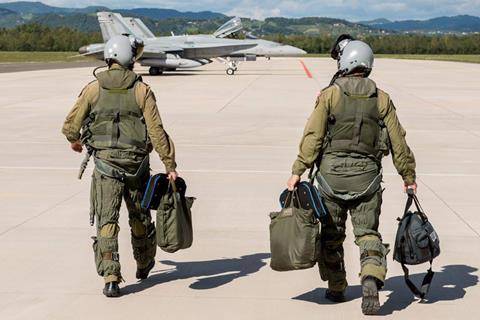 Defence minister Anita Anand on 9 March said the government of Prime Minister Justin Trudeau will develop and acquire new defensive missiles to counter unmanned aerial systems (UAS) and attack aircraft, as part of a broader effort to modernise the Canadian armed forces (CAF).
"As our world grows more complex, we are making the necessary investments to modernise the [CAF] with the equipment that its members need to keep Canadians safe," Anand said at the Ottawa Conference on Security and Defence.
"We are continuing to build a modern military that can protect our country from a range of new and emerging threats," she adds.
Anand identified two new programmes in particular, for which Ottawa has already issued official requests for proposals (RFP) to suppliers or requests for information from the defence industry. The government lists those as urgent operational requirements, denoting an expedited procurement process.
The Counter Uncrewed Aircraft project intends to provide a defensive capability to protect Canadian forces deployed in Central and Eastern Europe from hostile UAS and militarised commercial drones. The CAF is seeking both dismounted and vehicle-mounted versions, with contracts to be awarded in late 2023 and early 2024, respectively.
A separate programme, known only as the Air Defence – Urgent Operational Requirement (AD-UOR) project, seeks to acquire a "soldier-portable" very-short-range air defence system. The unnamed platform must be capable of defeating small UAS and attack aircraft, according to Ottawa.
The government expects to issue an RFP for that programme by summer 2023, with a contract being awarded in 2024.
The Canadian Department of National Defence (DND) says it will ultimately send the AD-UOR system to NATO's so-called enhanced forward presence (eFP) battle group in Latvia.
The alliance developed the eFP concept in 2016, with the goal of bolstering NATO's presence on its eastern flank and deterring aggression directed at member states in that region. The eFP battle group in Latvia included 1,700 personnel from 10 NATO countries in 2022, according to Riga. Canada, which has some 1,000 military personnel deployed in support of NATO missions in Eastern and Central Europe, leads the Latvia eFP battle group.
Ottawa's troop contingent in Europe also includes a number of Royal Canadian Air Force Boeing CF-18 fighters and aircrew.
Anand says the Trudeau government is on track to increase defence investments by 2026 to 70% more than 2017 levels. The DND in 2017 launched a 20-year modernisation plan it says will "provide the [CAF] with the capabilities, equipment and culture needed to anticipate and respond to threats and protect Canadians".
That effort includes some C$40 billion ($29 billion) in spending to enhance defence of its sprawling Arctic region, including improvements for the North American Aerospace Defense Command run jointly with the USA.
Ottawa's 2022 military budget includes some C$8 billion in new defence spending over the next five years, the DND says. The government is in the midst of updating its 20-year plan, which the DND says "is clearly necessary" following Russia's invasion of Ukraine in February 2022.