Washington has valued a prospective sale to Canada of 16 Boeing P-8A Poseidon maritime patrol aircraft at roughly $5.9 billion.
With the proposed Foreign Military Sales deal having received approval from the US Department of State, the US Defense Security Cooperation Agency (DSCA) says the P-8A "will increase Canadian maritime forces' interoperability with the United States and other allied forces, as well as their ability to contribute to missions of mutual interest".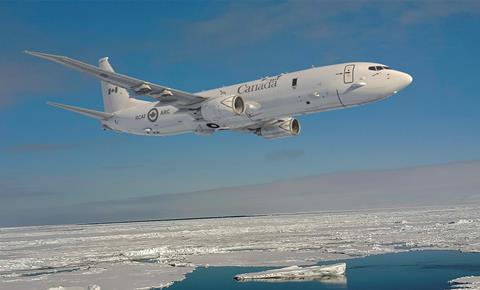 Detailing the development on 27 June, the DSCA said Ottawa's requested aircraft package also includes communications and self-protection equipment, along with spare parts, operational support and training services.
"Any offset agreement will be defined in future negotiations between the purchaser and the contractor(s)," it notes.
Canada in March 2023 announced its intention to acquire the P-8A as a successor for its aged fleet of Lockheed Martin P-3 Orions – locally designated the CP-140 Aurora. The US-built type would be introduced via the Canadian Multi-Mission Aircraft (CMMA) programme.
Bombardier has called on Ottawa to stage a competition for the CMMA need, proposing a development of its Global 6500 long-range business jet, in partnership with General Dynamics Mission Systems-Canada.
The Royal Canadian Air Force will retire its last CP-140s in 2030.
Meanwhile, speaking at the Paris air show earlier this month, Boeing Defense, Space & Security's senior regional director global business development Europe and Americas Tim Flood said the company is seeing increased interest in the provision of maritime surveillance in the "Arctic and High North".
Pointing to the sabotage of the Nord Stream 1 and 2 gas pipelines following Russia's invasion of Ukraine last year, Flood says: "We are confident that with the performance of the P-8 and with these threats growing, [customers] are identifying a future need for more P-8s – both in the Nordics and further abroad."
Boeing has already delivered nine 737NG-derived P-8As to the UK and five to Norway, while Germany is to acquire five to replace its in-service P-3Cs.

Craig Hoyle joined Flight International in 2003, and has edited the now monthly title since 2015. He has reported on the UK, European and international military aviation sector for more than 25 years, and produces our annual World Air Forces directory.
View full Profile