An unmanned cargo aircraft has made a first landing aboard the UK Royal Navy's (RN's) aircraft carrier HMS Prince of Wales, as the service eyes the future operational use of such equipment.
Announced on 8 September, the milestone flight was conducted from Predannack airfield in Cornwall using a W Autonomous Systems (WAS)-produced unmanned air vehicle (UAV).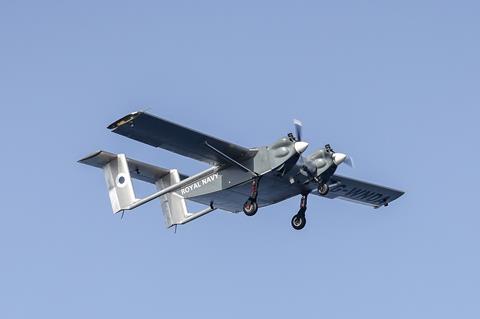 The twin-engined aircraft landed on the 65,000t vessel's flight deck following a roughly 20min flight, and departed after a "symbolic payload of naval memorabilia" had been unloaded from its internal bay.
Coordinated with the UK Civil Aviation Authority, the flight marked the culmination of an 18-month planning and approvals process.
The RN describes the trials sortie as "a vital step along the way to operating crewless aircraft safely alongside [Lockheed Martin] F-35 Lightning jets and naval [Leonardo Helicopters AW101] Merlin and Wildcat helicopters, which are currently the backbone of the Fleet Air Arm".
"The goal is to deploy drones with a UK Carrier Strike Group in the future, using them to transfer stores and supplies – such as mail or spare parts – between ships," it adds.
Developed by Southampton, Hampshire-based WAS, the HCMC-model aircraft has a 10m (32ft 8in) wingspan. It has a range performance of up to 540nm (1,000km) while carrying a 100kg (220lb) payload, and can take off within 150m (500ft).
"The drones incorporate a ground-breaking autopilot system, eliminating the need to be controlled remotely by trained pilots, and are designed to operate in the most challenging environments," the RN notes.
"Landing on a moving naval carrier was the ultimate test and our autonomous heavy-lift HCMC drone passed with flying colours," says WAS co-founder Charles Scales.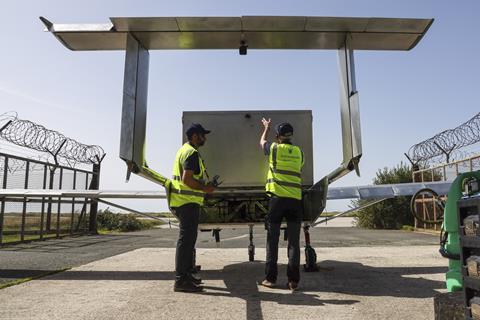 "HMS Prince of Wales is a fifth-generation aircraft carrier and operating autonomous drones like this will become the norm across future Royal Navy Carrier Strike Groups in our 50-year lifespan," says the vessel's commanding officer Captain Richard Hewitt.
The RN carrier departed Portsmouth on 1 September ahead of a planned three-month deployment to the Eastern Seaboard of the USA. The service says this activity will involve "pushing the limits of aircraft carrier operations with drones, [F-35] fifth-generation stealth fighters, [US Marine Corps Bell Boeing MV-22 Osprey] tiltrotors and helicopters".
F-35 operations will involve landing and launching the short take-off and vertical landing type "in more ways, more quickly and in the harshest of sea conditions", the service says. This will include aircraft returning to the ship at higher approach speeds and with an increased weight, via a technique referred to as ship-based rolling vertical landing.
Meanwhile, General Atomics Aeronautical Systems' short take-off and landing Mojave UAV also will be trialled aboard the vessel – which has a 275m-long flight deck – for the first time. The design is intended to carry a 680kg payload, including air-to-surface weapons.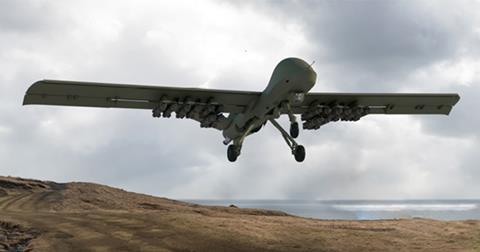 The RN plans to perform its next major Carrier Strike Group deployment in 2025. It also operates the flagship aircraft carrier HMS Queen Elizabeth.

Craig Hoyle joined Flight International in 2003, and has edited the now monthly title since 2015. He has reported on the UK, European and international military aviation sector for more than 25 years, and produces our annual World Air Forces directory.
View full Profile